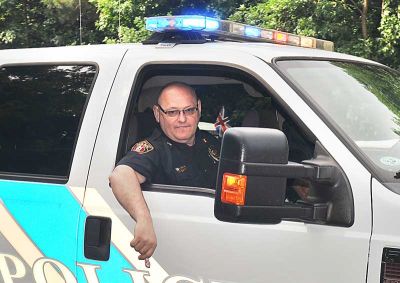 Fayette County District Attorney Scott Ballard on April 20 said talks are underway with the attorney for former Peachtree City Police Chief William McCollom following his April 15 indictment for misdemeanor reckless conduct by a Fayette County grand jury.
McCollom subsequently turned himself in for arrest at the Fayette County Jail and was released on bond.
The charge is in connection with the accidental shooting of his ex-wife, Margaret, in their Peachtree City home on New Year's Day. The wound left Margaret McCollom, 58, paralyzed from the waist down.
Though no time table is established, McCollom will either work out a plea agreement or go to trial, Ballard said.
McCollom turned himself in at noon on April 16 and bonded out on a $5,000 bond on the charge of reckless conduct.
Ballard on Monday said he hopes to share the file on the case this week.
"It could be resolved quickly but I have no way to know," said Ballard, noting that the parties are "having the typical talks that always go on."
Maggie McCollom told the Georgia Bureau of Investigation shortly after the shooting that she was asleep in her bed the early morning of Jan. 1 when she was struck by a single bullet to her back. She told agents she believed her shooting was an accident.
William McCollom, who served as chief for fewer than three months before the shooting incident, had been on paid administrative leave from his city post until he resigned March 11.
Peachtree City is in the midst of a search for a new top cop. The department's ranking officer now is Captain Stan Pye, who has been serving as interim chief of police.
McCollom came on board as assistant chief in September 2012, and became acting chief when H.E. "Skip" Clark resigned in July 2014.