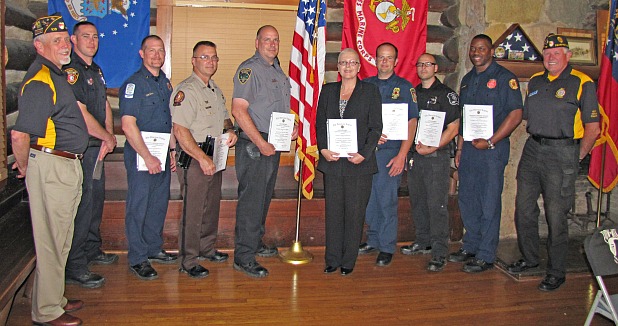 For many years, Fayette County Post 105 has presented its American Legion Public Safety Awards to honor first responders from the eight different departments that serve the county.
Pictured above are the honored recipients of 2015 with Post 105 officials.
They are; Jeff Yeater, Post 105 Commander; Corporal Ryan MacCallum, Peachtree City Police Department; Lt. Erran Brown, Fayetteville Fire Department; Deputy Alan Stapp, Fayette County Sheriff's Office; Sgt. Lem Miller, Fayette County Marshal's Office; Det. Joanna Macpherson, Fayetteville Police Departmen;, Firefighter Joshua Frasier, Fayette County Fire/EMS; Officer Jonathan Woodruff, Tyrone Police Department; Firefighter Dejuan Gilchrist, Peachtree City Fire Department; and Ray Willcocks, Post 105 SR Vice Commander.
Post 105 meets the second Monday of each month at the historic Log Cabin in Fayetteville.
Special Photo by Robert Ladd