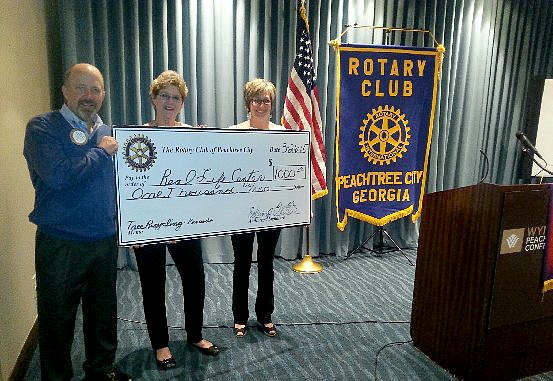 The Rotary Club of Peachtree City recently presented a $1,000 check to the Real Life Center.
Rotary is a sponsor of the Real Life Center, which was established in 1998 to help people who are facing life's unexpected challenges by offering them hope, guidance, and encouragement.
The Real Life Center has become one of the most highly respected and recognized non-profits in the South Atlanta Metro area. Its mission is to walk with those who are hurting in Fayette and Coweta counties by providing a safe environment in which to receive encouragement, access needed assistance, and obtain referrals to additional county resources.
The primary goal of the Real Life Center is to keep families stable in their home. Stability leads to healthier families and communities. This program has a 90% success rate of stability in the home, and 75% success rate of families meeting goals.
The Real Life Center thrift stores provide provides a place for the community to donate gently-used items to help families in need. All of the money the stores raise, after expenses, goes back to the Real Life Center to help local families.
Real Life Stores are located in Tyrone, Peachtree City and Fayetteville, and are open Tuesday – Friday, 10 a.m. -6 p.m. and Saturday 10 a.m. – 4 p.m.