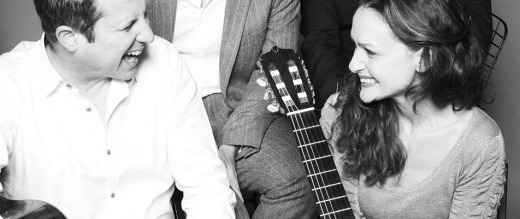 The VIDA Guitar Quartet of Chris Stell, Mark Eden, Amanda Cook and Mark Ashford, four British guitarists of exceptional artistry, will make their Spivey Hall Debut March 28.
Praised for its innovative arrangements of both classical and modern orchestra pieces, the quartet will perform transcriptions of great classics including George Gershwin's Rhapsody in Blue, J.S. Bach's Brandenburg Concerto No. 3, and three Hungarian Dances by Johannes Brahms, plus a suite of memorable tunes from Georges Bizet's opera Carmen, all jovially introduced from the stage.
"There's just one word for it," said "Gramophone" magazine of the quartet's performance. "'Magic.'"
Program notes and Audio Web Notes providing detailed information about the music and the composers are available now at www.spivey.org. Audio Web notes are online program notes enriched by short music samples that give patrons the chance to hear what the program notes are talking about.
Tickets are priced at $40 (with discounts for subscribers, groups, students and Georgia educators), and are available for purchase now.
The performance begins at 8:15 p.m.
A pre-concert dinner for VIDA is available for an additional fee of $40 per person. The dinner will be held at 6:30 p.m. in the Harry S. Downs Continuing Education Center; fee includes entrée, beverage and dessert. The deadline for purchasing dinner tickets is noon on Monday, March 23. Advanced purchase through the box office is required, and no dinners may be purchased the day of concert