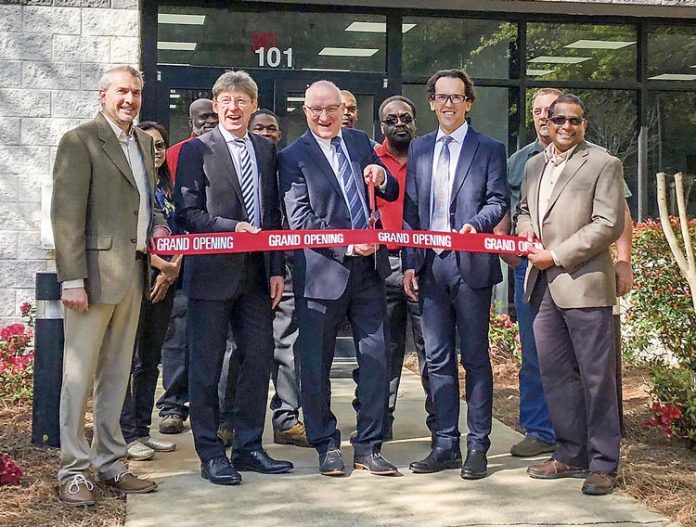 The ribbon-cutting for Peachtree City's newest industry was held on April 12. SILON, a leading producer of technical compounds and polyester staple fibers, will create more than 20 jobs and invest $20 million in a new Peachtree City facility located off Ga. Highway 74 South.
---
Above, SILON representatives were joined by government and industry guests at the April 12 ribbon-cutting at the company's $20 million industrial plant in Peachtree City. Pictured, from left, are SILON Plant Manager Scott Whiteside, CFO Dr. Bernd Morawitz, CEO Dr. Wolfgang Riediger, COO Drahomir Koudelka and Technical Services and QA Manager Carl Mahabir. Photo/Submitted.
---
"SILON is thrilled to open a new production site here in the U.S.," said Dr. Wolfgang Riediger, company CEO. "This will bring us one step closer to our U.S. customers so we can better suit their needs."
The SILON facility on Sierra Drive off Hwy. 74 South will be used for manufacturing, warehousing and storage purposes. The newly created jobs include positions in engineering, management and production.
Headquartered in the Czech Republic, SILON produces and sells polyolefin-based performance compounds and polyester fibers for use in the construction, automotive, and medical industries, among others.
"On behalf of Peachtree City, I am so pleased to welcome SILON to our Industrial Park," Peachtree City Mayor Vanessa Fleisch said in a previous statement. "Peachtree City's many industries play a vital role in making this great community, and we appreciate the investment SILON is making here. We look forward to working with SILON as they expand their business in our wonderful city."
Commenting on the arrival of SILON in Peachtree City, Gov. Nathan Deal in a previous statement said, "Georgia's top-ranked business environment continues to attract international firms like SILON to our state. In choosing Fayette County for this facility, SILON will find the logistics infrastructure and well-trained workforce necessary to support customers in a range of industries. I'm pleased to welcome SILON to the growing number of international companies creating jobs for Georgians and investing in our communities."
Georgia Department of Economic Development (GDEcD) Project Manager Joseph Huntemann represented the Global Commerce division in partnership with the Fayette County Development Authority (FCDA).
"The Fayette County Development Authority was pleased to partner with SILON to assist in its location in Peachtree City and Fayette County," said FCDA Chairman Darryl Hicks. "SILON will be a great asset for our community, both from the job perspective and for the capital investment they will add to our economy. In addition, we look forward to the cultural experiences that will be exchanged as a result of this international company's addition to our family."
SILON was founded in 1950 as a state-owned company near Tabor, Czech Republic, and is now one of the top producers of polyester fibers and polyolefin based compounds in Europe. SILON specializes in tailor-made solutions, creating products with very specific properties for a wide range of applications, according to SILON.
"We are excited to welcome SILON to Georgia, as they join a league of elite companies with manufacturing operations in the state," said GDEcD Commissioner Pat Wilson. "We've become a global destination for international companies who are looking to drive innovation and expand their global footprint. I look forward to the success SILON will see in Peachtree City."