 In Loving Memory of Elizabeth (Liz) Forgy Watt
Liz Watt brought joy and smiles to all that encountered her. She never had an unkind word for anyone.
Elizabeth F. Watt (Liz) passed away on Wednesday, October 4, 2023 at the age of 89. She was born on August 11, 1934 to S. Walton Forgy and Erskine J. Forgy in Manhasset, NY.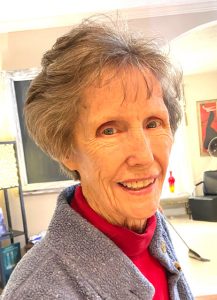 Throughout her life, Liz was a true friend. Her circle of friends was vast and varied, a testament to her ability to connect with people from all walks of life. 
Liz's battle with Alzheimer's was a cruel twist of fate that robbed her of her most short-term memories, but she would fondly recount all her wonderful times at past family gatherings throughout the decades in exacting detail.
Yet, she never forgot her love of chocolate, Coca Cola, UGA (both dog and football team) and the Braves, especially John Smoltz. She loved to share her passion for spontaneous dance. Dance Monkey by Tones really sparked her creativity, and her performances were greatly appreciated by the residents and staff at Somerby and Heartis.
Liz is predeceased by her parents Col. S. Walton Forgy and Erskine J. Forgy and her sisters, Erskine Feldmann and Louise Merkel. She is survived by her devoted daughters, Elizabeth M. Cowdery (Clay), and Ann M. Blaum, and her grandchildren Donna E. Blaum and John (Jack) Blaum.
A celebration of Liz's life will be held on October 14, 2023 at 1 p.m. at Providence United Methodist Church, 592 Bernhard Road, Fayetteville, GA, where we invite friends and family to gather to remember the laughter she brought to the world. 
In lieu of flowers, the family requests that donations be made to the Alzheimer's Association in Liz's honor, to support ongoing research in the fight against this debilitating disease.
Rest in peace, dear Liz, your spirit will forever dance in our hearts.