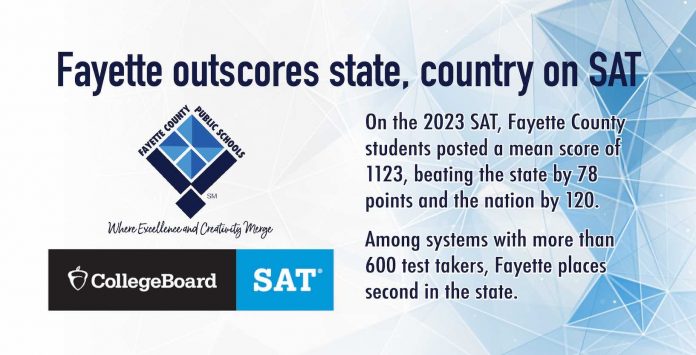 Fayette County posts second-highest scores among comparable districts —
Fayette County Public Schools maintained its place as one of the state's top-performing districts on the 2023 SAT, according to results released by the College Board.
Fayette County Public Schools posted a total mean score of 1123, 78 points higher than the state average and 120 points higher than the national average.
The Fayette mean ranks as the second highest total mean among Georgia districts with at least 600 test takers. Fayette County Public Schools had 965 total test takers.
County averages of 569 for the Evidence-Based Reading and Writing (ERW) portion of the assessment and 553 for the math portion also greatly outpaced the state and nation.
McIntosh ranked tops in the county with a total mean of 1175, an ERW score of 589, and a math score of 586. That was good enough for 16th in the state.
Starr's Mill's mean increased by 13 points to 1164, ranking them 20th in the state.
Whitewater posted a mean of 1115, Sandy Creek 1063, and Fayette County High 1027.
Georgia public-school students recorded a mean score of 1045, 42 points higher than the national average for public-school students of 1003. Georgia students record an ERW mean of 534, compared to 510 nationally. Georgia students averaged 511 on math, compared to 493 nationally.
"I am extremely proud of Georgia's students as they continue to beat the national average on the SAT," State School Superintendent Richard Woods said. "This is a testament to the hard work of students and teachers, along with the families who have invested in them. It's also confirmation that Georgia is on the right track as we continue to heavily invest in academic recovery and address lost learning opportunities for every student in every school." — Article provided by the Fayette County School System.