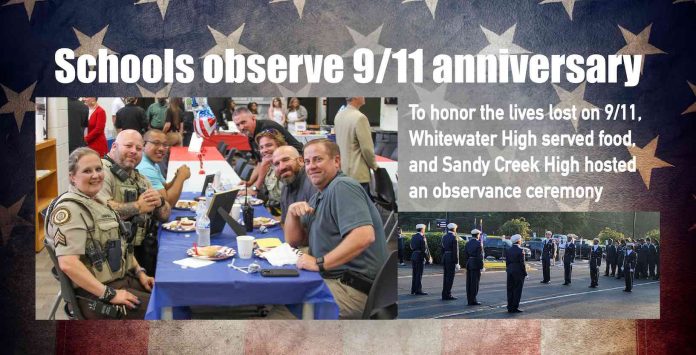 Schools around the county honored the lives lost on September 11, 2001.
Whitewater High hosted their annual breakfast for first responders, shown in photos below. Along with Fayetteville's Mayor Ed Johnson, Wildcat administration and staff welcomed close to 100 local first responders for a hearty meal.
Nearly 50 students helped put it together, including members of the BETA Club, National Honor Society, video production, food & nutrition class, and forensics class.
Local first responders honored included those from Fayetteville Fire Department, Fayetteville Police Department, Fayette County Fire Services, Fayette County Sheriff's Office, Fayette County Marshal's Office, and Fayette County 911 Communications.
Chick-fil-a Towne Center, Southside Church Fayetteville, Andy Arnold with State Farm, Country Fried Creative, Larry Giant Subs, and Berkshire Hathaway Realtor Stephen Walker came together to sponsor the event.
Across the county, Sandy Creek High hosted their annual 9/11 observance ceremony. Led by the school's Air Force JROTC Cadet Corp, the memorial featured a performance by the school choir, along with remarks from first responders and veterans groups. Photo below.
— Article and photos provided by Chris Dunn, Fayette County School System public information specialist.