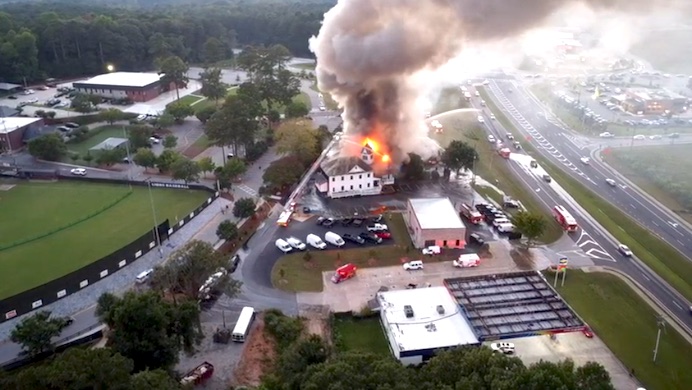 An iconic landmark along Ga. Highway 54 just inside Coweta County went up in flames Sept. 21. Heirloom Market Co. and Bakery suffered what has been called a total loss of the structure, with the cause of the fire under investigation.
Commenting on the fire call that came in at 6:11 p.m. about smoke and flames coming from the upper story and roof, Fire Chief Robby Flanagan said, "Coweta County Fire Rescue received a call late this afternoon regarding a commercial fire at Heirloom Market Co. and Bakeshop. After arriving at the scene and making sure everyone was evacuated, we realized the fire was much larger and activated defensive operations."
The fire was extinguished shortly after 9 p.m. and came with no injuries to citizens or firefighters, Flanagan said.
"No one was injured and the fire is now under control. Coweta County Fire Rescue and the Sheriff's Office will remain onsite to monitor throughout the night," Flanagan said last night.
Fire Marshall Enrico Dean said the building is being considered a large loss, adding that the cause of the fire has not been determined and is under investigation.
As would be expected, and given the building's close proximity to Hwy. 54, the traffic flow was impeded during the time firefighters fought the blaze.
"We appreciate the support of the Georgia Mutual Aid
Group that assisted us during this time," said Flanagan.
The building was constructed in 1970 by original owner Willie Albert Thompson, according to a detailed story in the Newnan Times-Herald.
Its first tenant was Thompson's Barbecue. Later businesses located there included the Jasmine Tea Room, Collectors Corner and finally Heirloom Market and Bakery in 2019.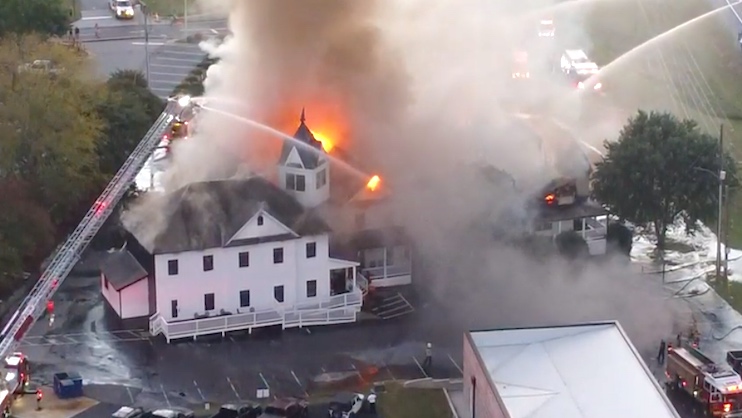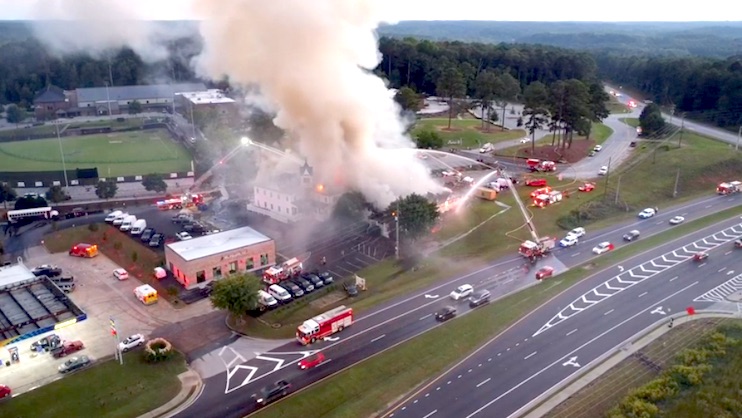 ===========================================
ORIGINAL STORY — Firefighters battled a late Wednesday afternoon fire at Heirloom, the former Collectors Corner, located on Ga. Highway 54 just inside the Coweta County line near Fisher Crossing. Many frequent it as a bakery as well.
Photos on the Coweta County Fire Department Facebook page showed flames engulfing a significant portion of the large structure.
An update from the Peachtree City Police Department just after 7 p.m. noted that traffic on all eastbound lanes of Hwy. 54 had been reopened.
More information will be forthcoming when it becomes available.