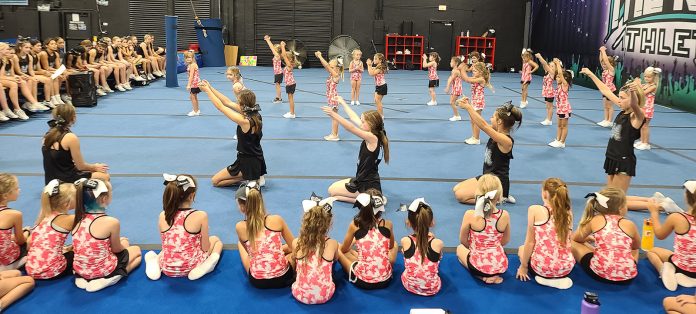 McIntosh Cheer took time out of preparation for their upcoming season to spend time with young cheerleaders. Earlier in August, the squad mentored members of the Fayette County Community Youth Football and Cheerleading program on how to be the best they can be.
The Chiefs worked with FCCYFC cheerleaders ages kindergarten through 5th grade on cheer routines, tumbling, stunting, and choreography. At the end of the day, each team of FCCYFC cheerleaders had the opportunity to showcase their routine for coaches, parents, and each other.
To cap off a day of hard work at The Rock Athletics, the new friends shared snacks and ice cream.
Participants from McIntosh were Kylie Alonso, Jamie Lee Artiles, Emma Bednarowski, Malia Bender, Alicia Carrrillo-Bueno, Macy DeBoy, Lauren Heffelfinger, Ashley Hochberg, Lillia Langaard, Kallie McCamphill, Sydney Roberts, Maddie Claire Sanders, Alyssa Sherman, Kamara Smith, Brooke Tringale, Skyla Ziegler, Caroline Bach, Olivia Bloy, Maddie Kirkland, Bella Seeby, Yuna Tamura, Mia Beeler, Amy Fujimoto, Laney Linville, Julianna Lockwood, Ella Madison, Charlotte Malloy, Sofia Rueff, Maggie Bowens, Ella Comacho, Blair Dollens, Alexis Ricca, Mackenzie Waldron, Sage Wesson, Anna Wheeler, and Saylor Ziegler, along with coaches Shannon Bednarowski and Kim Garner. — Provided by the Fayette County School System.