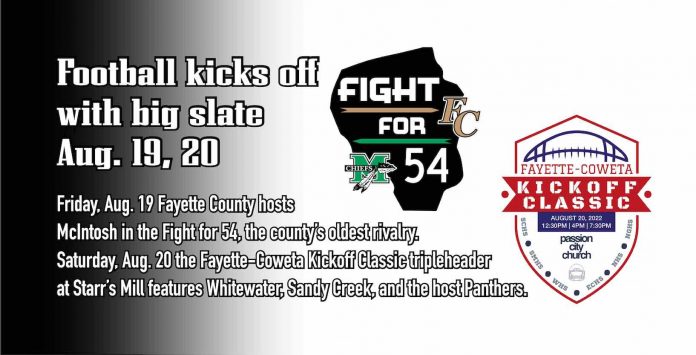 Football season kicks off with a bang this weekend, with all five varsity high school teams in action over two days.
It begins on Friday, August 19 with the renewal of the county's oldest rivalry when Fayette County hosts McIntosh. Kickoff is at 7:30 p.m. for the Fight for 54, with the Tigers looking to get revenge against the Chiefs. Tickets can be purchased for $8 on GoFan.
It's a day full of football on Saturday, August 20 with the Fayette-Coweta Kickoff Classic presented by Passion City Church at Starr's Mill High.
Game one at 12:30 p.m. pits Whitewater against Northgate. In the second game at 4 p.m., Sandy Creek and Newnan battle. In the finale, the host Panthers play the East Coweta Indians at 7:30 p.m.
All tickets to the Kickoff Classic are $12.00 and can be purchased at each school and are good for all 3 games. Tickets are available on GoFan and will also be available at the gate for $15.00. — Provided by the Fayette County School System.