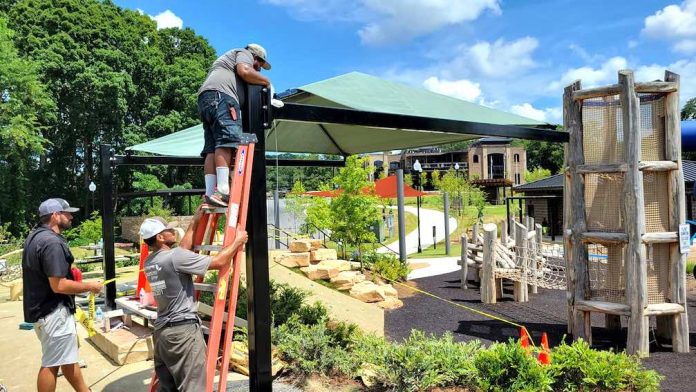 The popular hillside slide at the Fayetteville City Center Park playground reopened over the weekend after a custom-built sunshade was installed to keep the metal surface cooler.
The large, metal slide was temporarily closed for several weeks when it was discovered the surface was getting too hot in direct, midday sunlight. The new sunshade now covers most of the slide for most of the day while keeping the area openly visible.
The construction and installation of a permanent sunshade is underway for the tot lot, too. A temporary, pop-up canopy covers the playground's smaller slide until the new one can be installed.
All of the playground is reopened now. The tot lot will be temporarily closed again in a couple of weeks to accommodate the final phase of sunshade installation on that part of the playground.
The City of Fayetteville Public Services Department thanks the public for its patience as these upgrades have taken place.