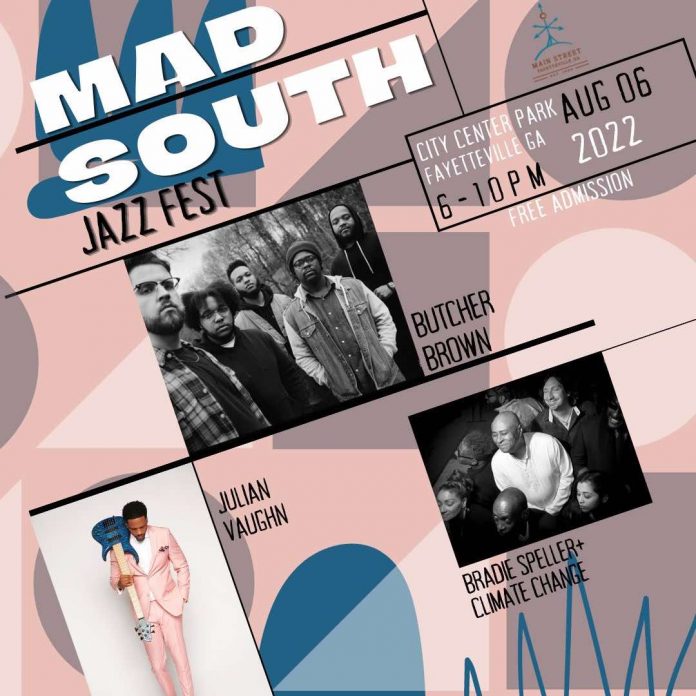 Fayetteville, Georgia — June 22, 2022 — Main Street Fayetteville has announced that Butcher Brown will headline the City's first-ever Mad South Jazz Festival supported by Julian Vaughn, and Bradie Speller + Climate Change. The free event happens August 6 at City Center Park from 6-10:30 p.m.
Mayor Ed Johnson dreamed up the idea for the city to create a jazz festival, and it quickly gained traction toward becoming one of Fayetteville's signature events for 2022. He noted the community's increasing diversity of residents and explained that a jazz festival hits that cultural sweet spot, appealing to a broad spectrum of people.
"Jazz is a genre of music that captivates and encompasses a wide variety of musical styles," Mayor Johnson said. "As the diversity of the city's population increases, we want to be intentional about providing musical entertainment across the various genres."
Hailing from Richmond, Virginia, Butcher Brown is a five-member ensemble blending jazz with hip hop, funk, rap, rock, and soul. The band is lined up to play festivals in Michigan, Illinois, California, and back home in Virginia before rolling down south to Georgia for the Mad South Jazz Festival.
Guests are invited to bring lawn chairs, blankets, and coolers with non-alcoholic beverages only. Food trucks will include Whatcha Cookin' Baby Seafood truck, PTC Grill, and Mommie's Empanadas. Other treats are available on site at Scoops, and Hog Pit BBQ, with adult beverages available at Line Creek Bus Barn and The Hummingbird Room.
City Center Park is located behind Fayetteville City Hall, 210 Stonewall Avenue West.
For more information, contact Main Street Program + Events Manager Jillian Mason: jmason@fayetteville-ga.gov, 770-719-4172.
Main Street Fayetteville's events lineup continues throughout 2022, and more information about them can be found at www.Fayetteville-GA.gov. Follow Main Street on Facebook and Instagram: @MainStreetFayettevilleGA.