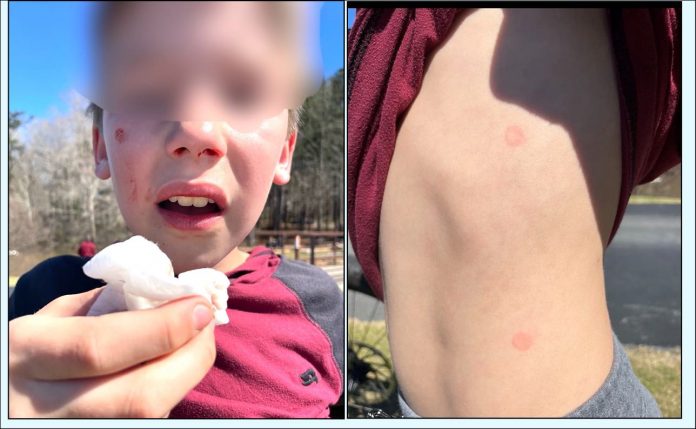 CORRECTED VERSION — Four 17-year-old Peachtree City residents were charged after March 14 incidents during which two younger children had been hit with a splatter ball gun, one while riding his bicycle. Ages 8 and 10, the two younger kids were struck in the face and chest by shots fired from a second golf cart that left the scene, a police report said.
Police on March 14 at approximately 3:26 p.m. were dispatched to Battery Way boat docks in reference to teens shooting other kids with paint ball guns, according to police reports.
Upon arrival, officers said one group of teenagers were stopped by parents for their actions. The offenders on scene were charged accordingly. They were charged only with discharging the "splat" guns, not for the shots that hit the children.
A second golf cart was identified by witnesses as being responsible for the shots that struck the children and additional charges may be pursued pending an investigation, reports said.
Charged with discharging splat guns were Gaddon K. Nelson, Mason T. Kulpinski, Benjamin D. Kieffer and Tyler A. Lerouzes, all age 17 and all residents of Peachtree City, according to police reports. The four were not involved in shooting at the young children.
Commenting on the incident Peachtree City Police Department spokesman Donte Phillips the four were charged with misdemeanor discharging a firearm inside city limits, adding that other charges against currently unidentified teens are pending based on the outcome of the investigation.
Phillips said the two victims of the shooting who were struck in the face and chest were ages 8 and 10.
On its Facebook page, the police department had a message for parents.
"This has gotten out of hand. We continue to see teenagers utilizing the cart path while discharging (water bead gel) splat ball guns (Orbeez) at other people on the cart path, even at innocent bystanders. Now they are modifying the beads to be more painful," the Facebook post said.
Referencing the March 14 incident, it was noted that, "… these can be very painful and can cause permanent injury. (One of the children shot) was riding his bicycle on the path when he was assaulted by a group of teens riding by and shooting these weapons at him."
The police Facebook also noted, "The police department will be pursuing criminal charges on all persons caught discharging these weapons at other persons on city property. In some cases, it could result in felony charges and parents could also be liable for the actions of their kids. Even just shooting these on city property (not at another person) is a violation of city ordinance. Please take this seriously and ensure your kids are not involved."
[CORRECTION — The earlier version of this story, and the headline, conflated the arrests of the four 17-year-old males with the shooting of the children. The four were not charged with shooting at the children. Instead the four were charged with the misdemeanors of illegally discharging the air-powered guns on city-owned property. Police are looking for a second group of teens on a second golf cart who shot at and hit the two children.]