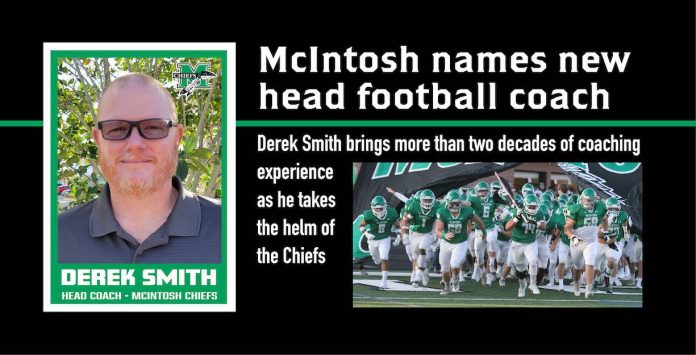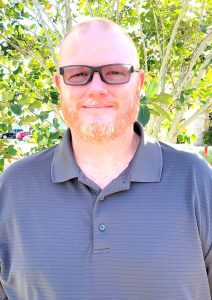 When football kicks off in the fall, there will be a new face leading the Chiefs onto the field. Derek Smith has been named the new head football coach at McIntosh High.
Smith was drawn to a school that appreciates the importance of combining success in the classroom and on the athletic field.
"The McIntosh football program has the capability of being one of those successful programs," said Smith. "They have strong student-athletes with work ethic and a desire to achieve. They have a strong and supportive booster club, student fan base, and community."
He is bringing with him 24 years of coaching in a multitude of sports, with his most recent run at Viera High in Florida. He spent the last 8 years at Viera, four years as the defensive coordinator and four as the head coach. As the head coach he won three district championships with two trips to the regional semifinals.
"I am coming from a school that is nearly a mirror image of McIntosh," he said. "It took a lot of hard work and effort to bring that school to state-wide recognition in Florida for football like the rest of their sports, and it was achieved."
Smith has lived his life around the gridiron. Following a collegiate career at Chowan College where he was a four-year starter, three-time All-Conference player, and one-time All-American, he jumped right into coaching.
"I understand the balance between student-athlete, how to motivate athletes to overachieve, and how to develop assistant coaches into the next generation of head football coaches," he said. "Through my years of experience I have learned how to develop and support relationships with parents, community businesses, and recreational programs to help in their growth."
His wife Christina is also a veteran educator of nearly 16 years specializing in Exceptional Children's Services and will be teaching at Sandy Creek High School.
Smith replaces Lee Belknap, who led the Chiefs for over a decade and leaves as the winningest coach in program history. 
Smith's departure from Viera, Fla., was covered in his hometown news site, Viera Voice. As the head coach, he compiled a record of 26-17 that included three district championships and two trips to the regional semifinals. As defensive coordinator under childhood friend Kevin Mays, Smith helped the Hawks reach the 2015 state championship game, according to vieravoice.com.
As for his new coaching home in Georgia, Smith had nothing but praise.
"Georgia puts a lot of money into their after-school activities, their after-school facilities. We've got the rubber tracks; the nicer stadiums; the turf fields; video boards; weight rooms with all the proper equipment; large wrestling rooms; large auditoriums … all the stuff you would expect to attract after-school activity at the highest level.
"And that's not just McIntosh. We're traveling to other schools to look and that's the commonality of Georgia. As a whole, the facilities around this area are phenomenal," according to Smith, quoted in vieravoice.com. — Portions of this article provided by the Fayette County School System.