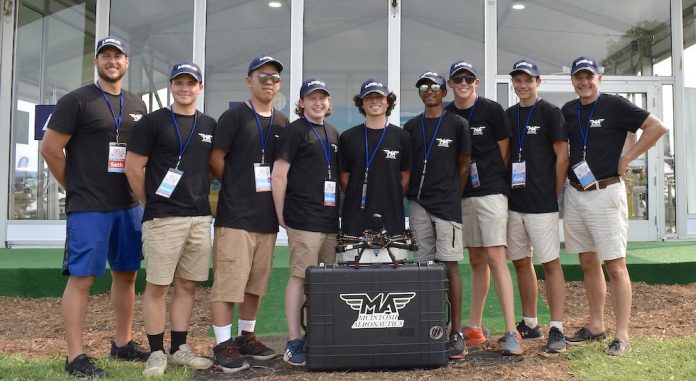 The list of best drone teams in the country begins with McIntosh High next to the top. On the heels of three-straight national titles, the Chiefs returned to Oshkosh, Wisconsin's EAA Flight Fest and finished 2nd in the nation for the national drone competition sponsored by the Academy of Model Aeronautics and the U.S. Navy.
The competition laid out a rescue scenario with a small group of people stranded after a flash flood. Students had to build and program a drone from scratch that could complete 3 tasks: Program and fly a specific set of aerial maneuvers (on the spot), locate 8 hidden targets, and autonomously deliver a payload to 3 of the targets. Points were awarded for speed, accuracy, and creativity.
"Our team won the previous competitions three times in a row, but missed our four-peat by just a couple points," said drone team coach Seth Bishop. "We plan to go back next year to reclaim our title in the new international competition."
The McIntosh Aeronautics team is Joseph Metzler-Concepion, Nick Farinacci, Matthew Villiger, Marc van Zyl, Dalton Toner, Jiaming Zhang, Aadhav Sundar, and Om Malavde. The team is expanding this year to include indoor drone racing and racing simulations.
"We are going to be working to rebuild and improve the drone and improve our efficiency during missions," Metzler-Concepion said. "The entire purpose of the organization is to provide an opportunity for students to be able to grow and follow their passions for Aerospace, so whatever continues that mission is what will be done." — Story provided by the Fayette County School System.
Below, the winning drone flown by the McIntosh team.