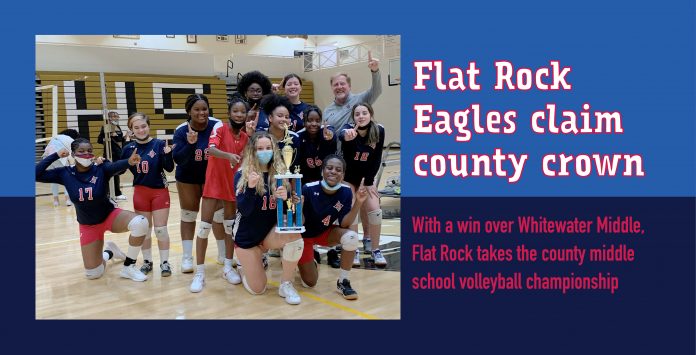 The Flat Rock Eagles are on top of the county. With a victory over Whitewater Middle, Flat Rock wins the 8th grade county middle school volleyball championship.
It was a hard-fought win for the Eagles. After losing the first set 20-25, they battled back to tie it with a 25-13 second set win, then seized the crown with a 15-9 win in the decisive set.
The champion Eagles are Tazariah McCoy, Sarai Stephens, Kadence Walding, Kaylee Snyder, Charlee Johnson, Erin Smith, Leslie Martinez, Ava Eaton, Jessee Johnson, Parker Reese, Madison Hines, Courtney Bumgarner, and Alexis Mitchell.
The team is coached by Ben Thacker, and Taylor DuPriest and Wynter Lindsey are team managers.