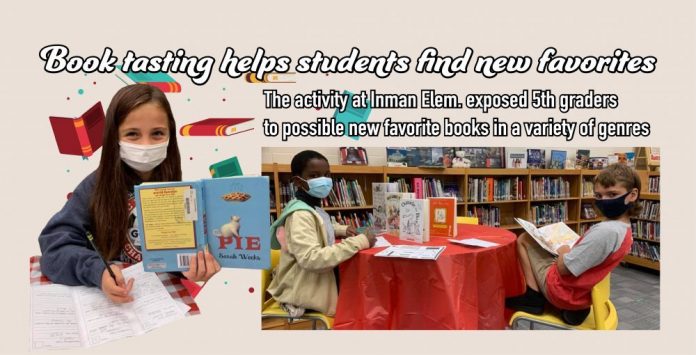 A little bit of book tasting helped students at Inman Elementary find their new favorite reads.
The book tasting was a collaboration between the 5th grade teachers and the media center staff to allow students time to "sample" books from different genres. There were 12 genres identified on tables: Humor, mystery, science fiction/fantasy, historical fiction, realistic fiction, picture books, traditional literature (fairy tales, folklore, fables), adventure, books in a series, informational, poetry, and (auto)biography.
Students used a brochure with guided questions that helped them focus on and evaluate a book that appealed to them from the genre represented on the table. They visited five sections and even used their mapping skills as they navigated from table to table.
The activity was designed to get students to branch out from reading the same series over and over again.
"While we believe all reading is good reading, there are so many books that will grow their minds and improve their understanding of their world," said Inman Media Specialist Tracy Larson. "The objective of the book tasting was to increase the students' awareness of the different kinds of books that are available and what those books are."
The event was a hit with the kids.
"The students really enjoyed the book tasting. After each session, several students asked to take some of the books that they had previewed," said Larson. "Many of the students expressed their appreciation for the opportunity to peruse some books that they might not have looked at previously."