The Georgia Association of Chiefs of Police (GACP) has selected Peachtree City Police Chief Janet Moon as the GACP president on Tuesday, July 20.
Chief Moon is a 36-year police veteran. Originally from Cedartown, Ga., she began her career in the Army, serving as a military police officer in 1985. In 1989 she went to work at the Rome Police Department where she rose to the rank of lieutenant serving in many divisions of the department.
Chief Moon joined the Suwanee Police Department in 2001 as a captain over the Field Operations and Communication divisions. In 2006, she was promoted to the rank of deputy chief and served as second in command of the department. In August of 2015, she was named chief of police in Peachtree City.
Chief Moon has a Master's Degree from Columbus State University in Public Administration, a Bachelor's Degree from Covenant College in Organizational Management, and an Associate's Degree from Floyd College (now Georgia Highlands) in Criminal Justice.
Chief Moon attended the 205th session of the FBI National Academy, attended Class #11 of the Georgia Law Enforcement Command College, and attended the 23rd delegation of the Georgia International Law Enforcement Exchange to Israel.
Chief Moon is a member of the International Association of Chiefs of Police, National Association of Women Law Enforcement Executives, Georgia Association of Chiefs of Police, and serves on numerous professional and community-based boards of directors.
She currently resides in Brooks, Ga on her farm with numerous farm animals.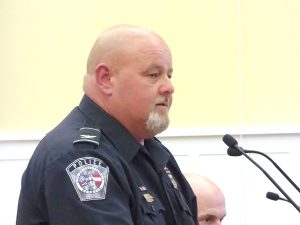 At the same meeting, Fayetteville Police Chief James "Scott" Gray was sworn in as the new 4th Vice President of the GACP.
Chief Gray was appointed as chief of police for the city of Fayetteville in February 2017. With more than 29 years in law enforcement, Chief Gray has served in a variety of patrol, administrative, and leadership positions over the course of his career.
Prior to joining the city of Fayetteville, he served as captain of the North Precinct with the Henry County Police Department. He also worked for the city of Lake City Police Department, as well as the Abraham Baldwin College Department of Public Safety.
Chief Gray is a graduate of the FBI National Academy (Session 243) in Quantico, Virginia and has attended and successfully completed the Georgia Command College (Class 58). He earned a Master of Science Degree in Criminal Justice from Troy University and also holds a Master of Science Degree in Public Safety Administration from Columbus State University. He received his undergraduate degree in criminal justice from Columbia Southern University. He also holds an Associate of Applied Science Degree from Abraham Baldwin Agricultural College.
Chief Gray is married to Regina Gray and they have two adult sons. One serves in the U.S. Army and the other is a police officer with the city of Calhoun. Chief Gray and his wife have three grandchildren.