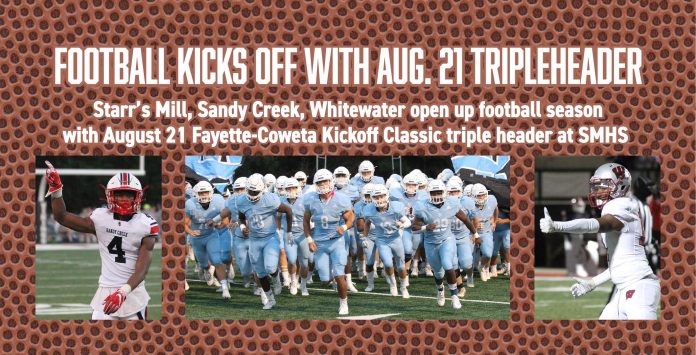 Strike up the bands and alert the cheerleaders, high school football season is fast approaching. Three local schools will open up the campaign together as part of the 1st Annual Fayette-Coweta Kickoff Classic sponsored by Chick-fil-A on Saturday, August 21, 2021.
The football festivities will be hosted by Starr's Mill High, and Panther Stadium will be rocking for the tripleheader pitting three Fayette teams against a trio of squads from Coweta.
It kicks off with the opener at 2 p.m. as Sandy Creek tangles with Northgate. Next up, Whitewater faces East Coweta at 5 p.m. The nightcap at 8 p.m. features Starr's Mill against Class 7A power Newnan as the Panthers embark on their quest for a sixth-straight region championship.
The event will be open will full capacity seating. All tickets are $10.00 and can be purchased at each school and are good for all 3 games. Tickets are available on GoFan and will also be available at the gate for $12.00.