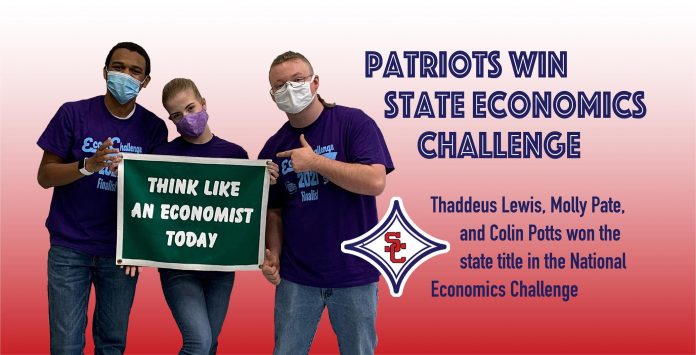 Sandy Creek High's Economics Challenge team is a state champion. After progressing through the first two rounds, the trio of Thaddeus Lewis, Molly Pate, and Colin Potts beat Northview High in a quiz bowl to claim the National Economics Challenge state crown, earning a spot in the National Semi-Finals.
The National Economics Challenge (NEC) is the country's only economics competition of its kind for high school students. It tests micro and macroeconomic principles, as well as knowledge of the world economy. The winning team from each state moves on to the National Semi-Finals from which the top-scoring teams advance to compete for the National Title. For spring 2021, Semi-Finals and Finals competitions will be held entirely online.
The Patriots competed in the David Ricardo Division, which is reserved for non-honors and AP Economic students. David Moore also competed with the team in the 1st round.