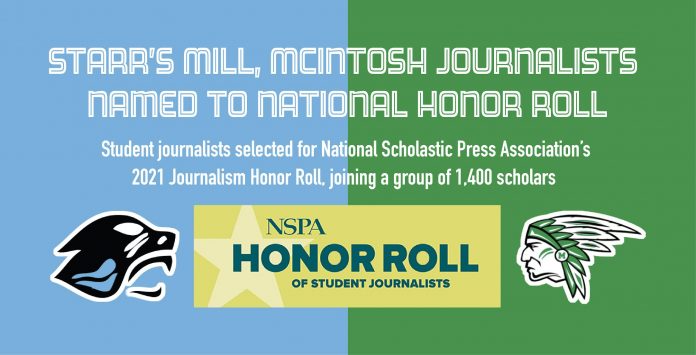 A select group of student journalists are among the nation's best. Students from Starr's Mill and McIntosh High have been selected for the National Scholastic Press Association's 2021 Journalism Honor Roll, joining a group of approximately 1,400 top scholars from around the country.
Members of The Prowler, Starr's Mill's student-run online newspaper, honored are Emily Davis, Mary Jane Gagliano, and Rachel Laposka.
Members of the McIntosh Trail, McIntosh's student-run online newspaper, honored are Nakia Harmon, Yunju Lee, Jordyn Mobley, Izzy Pullias, and Landon Wilde.
Members of The Legend, McIntosh's yearbook, honored are Emma Bellantoni, Kait Kruzan, and Natalie Spellman.
To be included, one must serve at least two years on a student media staff in broadcast, newspaper, magazine, online, or yearbook and earn a 3.5 or higher on a 4.0 grade-point scale. Publication advisers and journalism instructors nominate students for the honor.
All Honor Roll inductees receive a certificate of recognition and will be listed in the NSPA's Best of the High School Press publication. They are also eligible to compete for a $1,000 scholarship.