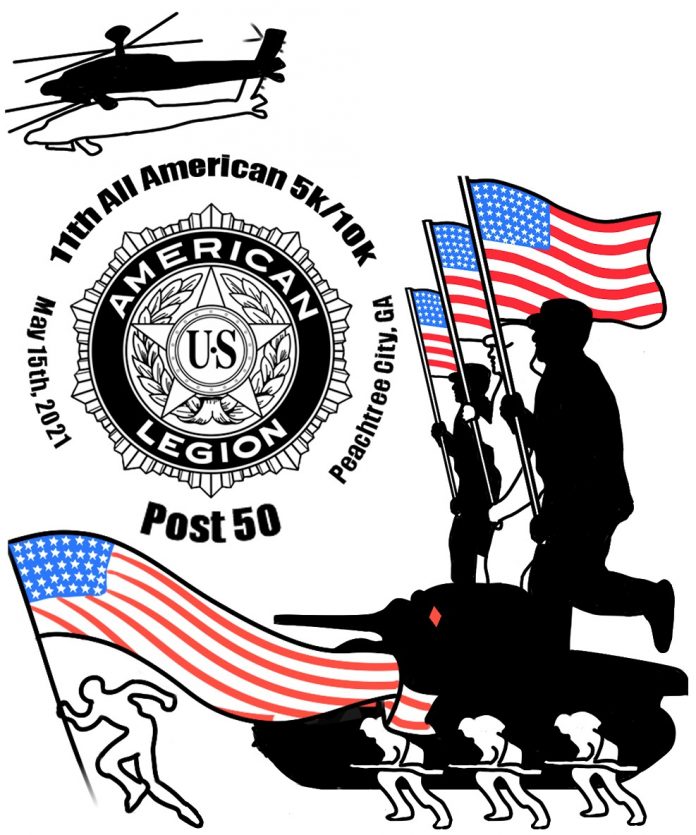 We are back!! We are kicking COVID to the curb!  After a very difficult 2020, we are now winning the fight against COVID! As part of that effort, it's time to celebrate Spring and to honor our veterans on Armed Forces Day, May 15.
Join us on Saturday, May 15, at 8:30 AM for the 11th Annual 2021 All American 5K/10K run/walk or Phantom (virtual) run co-hosted by the American Legion Post 50 and the Peachtree City Running Club.
The race starts and finishes at Frederick Brown Amphitheater and is sponsored by American Legion Post 50 and the Peachtree City Running Club. Proceeds for this event support the Veteran and Youth programs sponsored by American Legion Post 50 in the Peachtree City, Tyrone, and Senoia Communities.
Not a runner? Wanting to avoid the crowd? No problem. You also have an alternative option to participate as a Phantom (Virtual) runner. For the price of registration (includes shipping and handling), you will receive a race t-shirt. You may choose to run/walk any course of your choosing at any time you choose.
New this year is a discounted rate for MILITARY VETERANS and FIRST RESPONDERS (Police, Fire Fighters, EMT, and hospital workers) as our way to "THANK YOU" for your steadfast service.
COVID 19 safety measures and protocols will be exercised at this event.  We ask all participants to wear a face mask prior to and after completing your respective event. (No mask is needed while you are running/walking an event). Be sure to check Legion Post 50 website at www.galegionpost50.org for updates.
Awards will be presented to the top three overall male and female finishers and the top three male and female participants in each 5-year age group. Registration / sign-in starts at 7:00am.  T-Shirts and race packet pick up upon completion of your respective event.
It is easy to sign up. Download a form at 11th-Annual-All-American-Registration-Form-.pdf (ptcrc.com)  OR register online at: 2021 All American 5K/10K Online