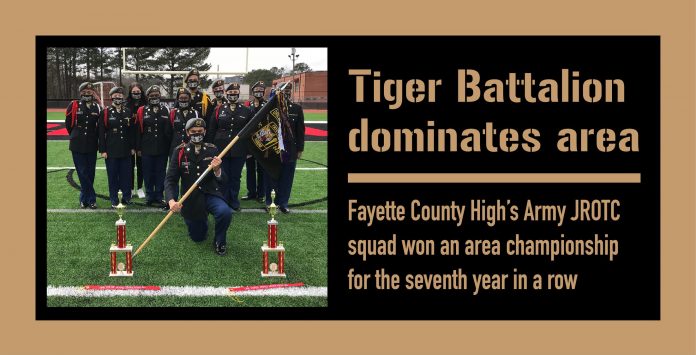 The Tiger Battalion is headed to state. Fayette County High's Army JROTC squad swept all area drill competitions they entered, earning an automatic bid to compete at state. By claiming 1st place in Color Guard, Armed Squad, and Unarmed Squad, the Tigers are area champions for the seventh year in a row.
The FCHS Army JROTC Tiger Battalion is Morgan Wucher, Marquis Jones, Briyana Wheeler, Mitch Howard, Joshua Achiu, Kayce Davis, Sarah Nwuha, Anthony Cordero, Alex Houston, Grace Picklesimer, and Vanessa Campagna. The squad is under the direction of First Sergeant Anthony Bell, Sr.
"I left the decision up to the cadets this year to decide if we would even participate in this year's Drill season because of COVID-19. They collaborated and decided YES!" said 1SG Bell. "We had to follow detailed protocols when attending the schools who hosted meets, but the kids were highly motivated regardless of what we needed to do."
Bell singled out Nwuha for her leadership of the overall team and Houston for her command of the Armed Squad. He also expressed excitement about the promise of a pair of sophomores: Davis, who commanded the Unarmed Squad, and Achiu, who commanded the Color Guard.
"I love working with these kids because I get to see their leadership blossom taking charge and leading," said Bell. "Our team is young, and I am proud of the exceptional team effort they all did this year. I expect we will continue to grow as a team and continue on with the Fayette County tradition of being one of the best drill teams in the state of Georgia."