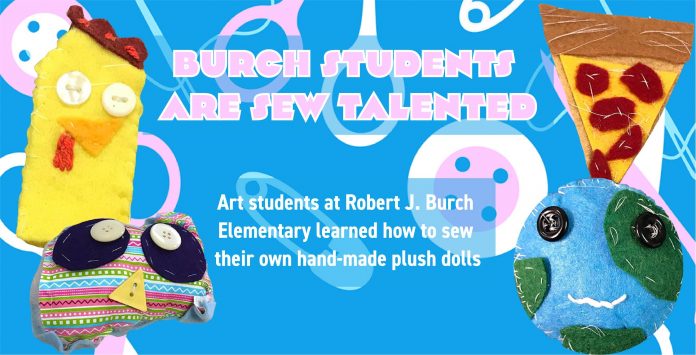 Robert J. Burch Elementary students are learning how to make their own fun. Students in art teacher Elise Wheatley's classes got all dolled up turning sewing lessons into their own hand-made creations.
Students in 2nd grade created their own finger puppets, taking their characters from design to finished product. Next, they will produce finger puppet plays, and some classes will perform with their puppets on the school's broadcast "Some Beary Good News."
For 3rd grade, the assignment was stuffed animal owls, and 5th graders created stuffed plush food. The project for 4th grade was to design a planet, meteor, or star that they learned about during lessons on the solar system.
"The students found the project difficult but engaging. Once they understood sewing it was a breeze," said Wheatley. "Some of the challenges were learning how to thread a needle, how to tie a knot, and remembering which way to sew to hide the thread. They showed resilience and perseverance to finish their pieces that they were proud of."