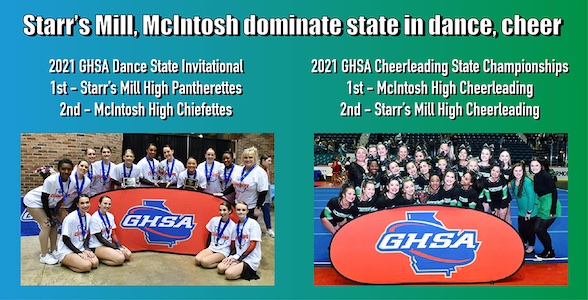 When it comes to dance and cheerleading, Fayette County schools run the state.
Starr's Mill High dominated the 2021 Dance State Invitational on February 13, winning the overall 5A-6A state championship. The Pantherettes also placed 1st in Jazz and Pom. The McIntosh High Chiefettes were the overall runner-up.
The state champion Pantherettes, coached by Patt Coleman, are Lydia Castilla, Somaiya Curwen, Alyssa Dell, Rylie Hamilton, Rachel Harville, Mia Heafner, Maggie Lowry, Sydney Mills, Eden O'Neal, Elizabeth Peebles, Haley Perini, Myla Reardon, Rachel Tramonte, and Victoria Wiest.
At the GHSA Cheerleading State Championships on February 27, it was McIntosh High claiming their second-straight 5A state title, and Starr's Mill finished as runner-up.
Coached by Shannon Bednarowski, Lynne Bruschetti, Danielle Wolf, and Catie Callen, the state champion McIntosh cheerleaders are Jamie Lee Artilles, Caroline Bach, Lizzie Bloy, Emery Boerstler, Sor'et Braxton, Ava Campbell, Macy DeBoy, Brianna Dreadon, Kingsley Garrett, Laura Grazinschi, Lila Hacklander, Lauren Heffelfinger, Ashley Hochberg, Akira Hogans, Lauren Janos, Sophie Marshall, Lexi Phillips, Caroline Roach, Ella Ross, Maddie Claire Sanders, and Camryn Wilson.
In AAA cheer, Sandy Creek placed second in their region, earning a spot competing in the state sectionals. — News from the Fayette County School System