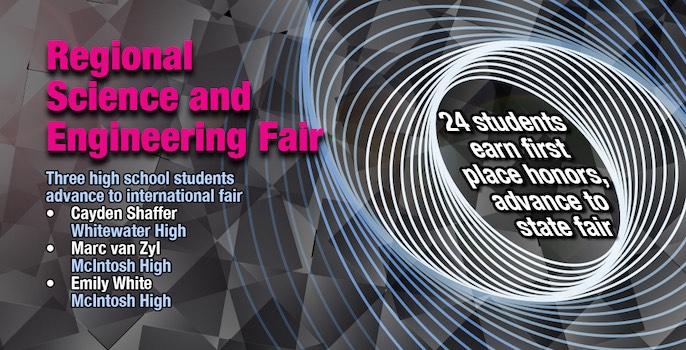 Three advance to international competition — 
Science students are not letting the pandemic and virtual presentations derail them from demonstrating their knowledge and love of the subject. All 44 students (31 high school and 13 middle school) and 35 projects that advanced to the Griffin RESA Regional Science and Engineering Fair earned placements with 24 students earning first place honors.
High school (senior division) and middle school (junior division) first place winners will represent the region at the Georgia Science and Engineering Fair that will be held virtually March through April of 2021. Both of Fayette's high and middle school students took 90 percent of the first place awards in their divisions.
The top three senior projects at the regional competition automatically advance to compete in the Regeneron International Science and Engineering Fair, and all three top projects are from Fayette.
The students who automatically advanced to the international fair are Cayden Shaffer, Whitewater High; Marc van Zyl, McIntosh High; and Emily White, McIntosh High. The competition will be held virtually in May 2021.
The high school students advancing to the state competition have the opportunity to score high enough to earn a spot at the international competition.
High school first place winners advancing to the state competition are (Fayette County High School) Sia Gawlani, Isha Jalia; (McIntosh High School) Roshan Kolachina, Nira Patel, Aadhav Sundar, Marc van Zyl, Emily White; (Sandy Creek High School) Lily Mai, Rachel Mensah, Melanie Nguyen, Aleksander Stec, Helen Sorme, Celine Tran; (Starr's Mill High School) Katherine Shriner, Emily Stanek; (Whitewater High School) Harrison Bonner, Andrew Graddy, Zayden Leischner, Oliva Ray, Cayden Shaffer, Emily Wagner.
Middle school first place winners advancing to the state competition are (J.C. Booth Middle School) Zoura Chan, Vedita Sawheny; (Rising Starr Middle School) Jonah Begley; (Whitewater Middle School) Kayla Hoang.
The Griffin RESA Regional Science and Engineering Fair is open to middle and high public school students in Butts, Fayette, Henry, Lamar, Newton, Pike, Spalding, and Upson counties.