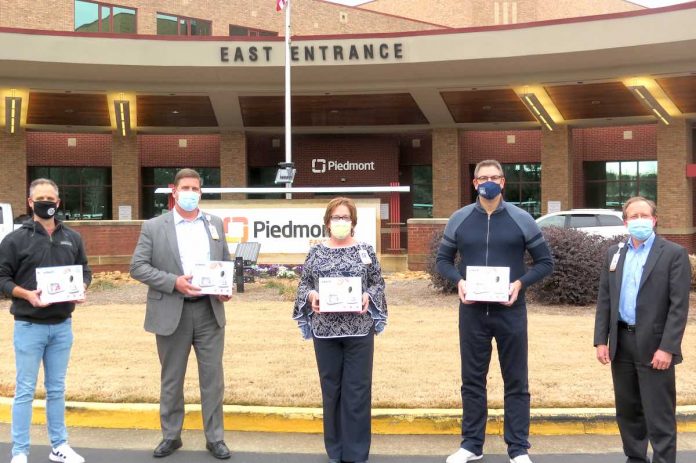 Piedmont Fayette Hospital has received generous support from individuals, businesses and organizations throughout the pandemic. Southside Church, like many groups, often told hospital leadership to let them know if there was anything the hospital needed while continuing to care for the community.
Recently, the hospital took Southside Church up on their offer and asked for baby monitors. The hospital did not have an influx of new babies, but would instead use the monitors to see into the rooms of patients on isolation precautions, including patients who have Covid-19.
The hospital's clinical staff uses the monitors to view the pulse oximeter monitors and communicate with the patients.
"Beginning last April, healthcare was faced with new challenges secondary to the Covid-19 pandemic. These challenges included no visitation, closed doors for infection control issues, and expansion of units to accommodate our critical care patients. Therefore, our team needed to quickly become innovative with technology that could support our mission of patient safety," said Merry Heath, Piedmont Fayette's Chief Nursing Officer. "The use of baby monitors became a quick solution that allowed caregivers to observe and monitor our patients while adapting to the new reality of our hospital."
When Chris Patton, Lead Pastor of Southside Church, and Jason Dixon, Lead Pastor of Southside Church in Peachtree City, got the request, they were able to use the church's Be Rich campaign to purchase 75 baby monitors for the hospital. They knew how important the monitors were for the hospital and worked tirelessly to get them in the hands of staff to begin using them immediately.
"We pray for you every day," Patton said to members of the hospital leadership team. "You knock it out of the park every time and we're glad to support you any way we can."
For more information about Piedmont Healthcare's response to Covid-19, please visit piedmont.org. Community members wishing to support the hospitals greatest needs should contact Paige Muh, Community Relations Manager at Paige.Muh@piedmont.org or call 770-719-5758 for donation guidelines and to coordinate logistics.