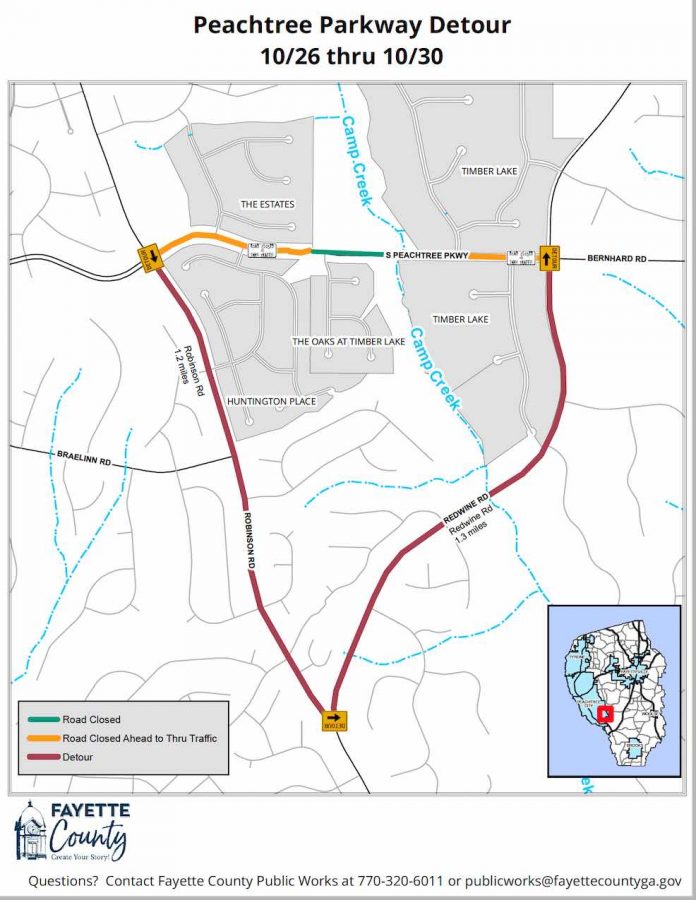 Water main repair on South Peachtree Parkway will require road closure and detours in southeastern Peachtree City for five days beginning Monday, Oct. 26, according to a notice from the Fayette County Public Works Department.
"The 1-mile segment of South Peachtree Parkway between Robinson Road and Redwine Road will be closed to through traffic from 10/26/20 through 10/30/20. The closure is necessary for road repair work associated with a water main break in September," said County Clerk Temeca P. Smith.
"The at-grade path crossing, located west of Merrywood Lane, will also be closed due to required grading in that area," Smith said.
The county said access will be maintained for all homeowners along this segment of road. Residents in the Timber Lake subdivisions (north and south) will enter and exit from the east (Redwine Road). Residents in The Estates, The Oaks at Timberlake and Huntington Place will enter from the west (Robinson Road).
Residents should allow extra time for traveling through the work zone. Please go slow and please keep the workers safe. Contact Public Works at 770-320-6011 or publicworks@fayettecountyga.gov with questions concerning this closure.