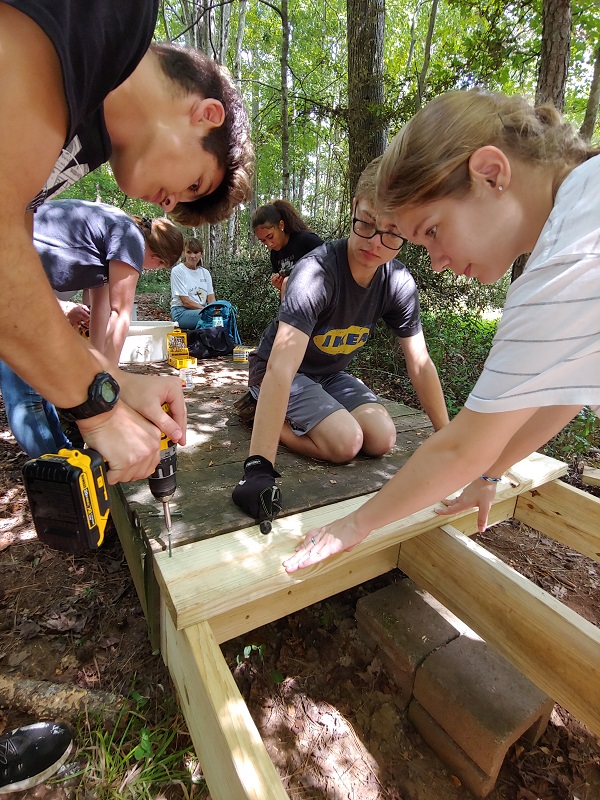 Freshmen students at The Foundry high school in Peachtree City recently completed an extensive service project for the Calvin Center, a residential camp in Hampton. Working as a team, the students completed six needed projects in one day.
Each year, The Foundry establishes an overarching theme where freshmen focus on service through their first year in high school, said Headmaster Christi McCully.
"We want our students to understand that they can make the world a better place today. They don't have to wait until they graduate from high school or college, or when they are mid-career. They can do it today," McCully explained.
"But 2020 has proven to hold more than its share of challenges. Once the school decided that it had adequate measures in place to effectively keep its students safe, finding a beneficiary of 42 students' labor proved to be a challenge. In past years, students had remodeled houses for a widow and a disabled veteran, but the threat of Covid definitely got in the way of the school's efforts to do good. That was until someone suggested The Calvin Center," McCully continued.
McCully said the Calvin Center opened the doors to its 536-acre site in 1960 as a local retreat for the metro-Atlanta area. The camp includes many activities, a conference center, swimming, horseback riding, lodges and more. And all of those structures and activities require a tremendous amount of maintenance.
"Every Foundry student goes through an induction weekend at the Calvin Center, giving the camp a special place in the hearts of all Foundry students. So when the camp was suggested as a location for an act of service, the students leapt at the opportunity," said McCully.
McCully noted that Paul Burns has handled all maintenance at the Calvin Center for the past year, a monumental task for any one person.
"There has been this list of tasks that needed doing, but they keep getting pushed to the bottom of the list because of more pressing needs that require attention immediately," said Burns.
So when he received the phone call from The Foundry, he felt like he won the jackpot, said McCully.
McCully said the project was organized through the school's engineering class taught by Gregg Lehman of Eaton Lighting.
Once agreed upon, an appointment was made for all new students to come to camp to apply "Design Thinking," a solutions-based way of solving problems in which the person with the problem becomes the priority and the problem is understood from their perspective before a solution is created, McCully noted.
The students were approached with six projects: To build a ramp for a boardwalk, to rebuild a stone fireplace and replace two pavilion supports, to move eight downspouts, to reclaim an outdoor bathroom that had fallen into disrepair, to replace wood outlining an outdoor worship area, and to build a boardwalk.
"After seeing the projects, Paul asked which we felt confident in completing. The students decided to do all of them. And they did. In a single day," said McCully.
Students formed teams and formulated plans to solve the problems at the Calvin Center. They then created lists of supplies needed for the repairs and a time table to do the work.
Kevin McCormick with Square Foot Ministries oversaw the process to make sure the students' plans were structurally effective. Students then met Square Foot Ministries' volunteers at the camp to work.
"I really needed this," Burns said. "2020 has been really tough and seeing all of these kids work so hard to help out, well, it just gave me hope."
Commenting on the projects, Bradley Samnath, Foundry ninth grader said, "I didn't think we would ever get it all done in a day but we did. It is pretty amazing to see what can happen when you work together as a team."
Another Foundry student, Ella Averett, added, "It felt good that we could help Mr. Paul out and that it seemed to help him so much."
McCully said all the students walked away tired, but feeling accomplished at what they achieved.
"I was really proud of what we did. Can we do it again?" Foundry student Zoe Schilke asked.