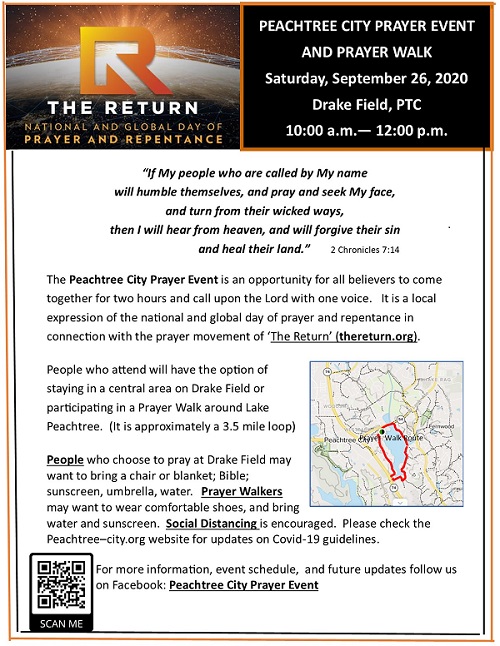 The Peachtree City Prayer Event and Prayer Walk is scheduled for this coming Saturday, Sept. 26, at Drake Field, next to City Hall.
The non-political event will be held from 10 a.m. until noon and is an opportunity for all believers to come together for two hours and call upon the name of the Lord with one voice. The event is intended to be a local expression of the national and global day of prayer and repentance in connection with the prayer movement "The Return" (thereturn.org).
Those attending can stay at Drake Field or participate in a walk around Lake Peachtree (approximately 3.5 miles).
Those choosing to pray at Drake Field may want to bring a chair or blanket, Bible, sunscreen, umbrella and water. Social distancing is encouraged.
Among those providing the prayer focus are Rev. David Rathburn, Rev. William Bishop, Pastor Gilbert Kelly, Rev. Joseph Conrad, Lindy Hale and Elder Terry Fidler.
For more information, visit Peachtree City Prayer Event on Facebook.