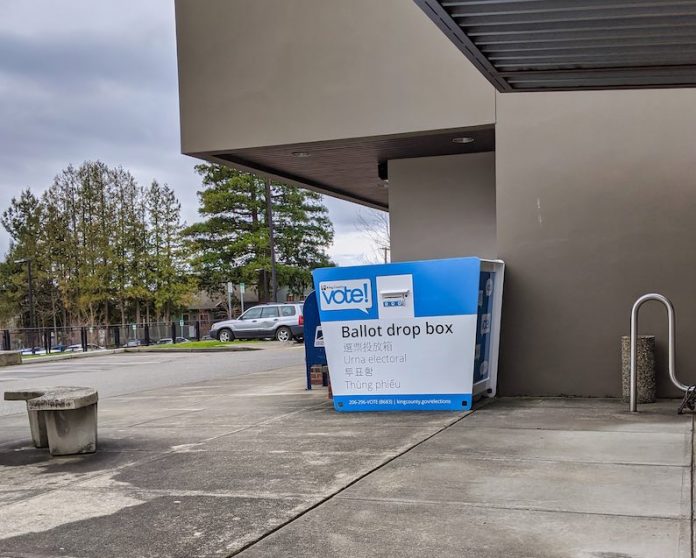 Fayette County commissioners on Aug. 31 approved the purchase of at least three election ballot boxes and camera equipment to be installed in Fayetteville, Peachtree City and Tyrone.
The approval was for a maximum of $10,000 from the General Fund for the boxes and cameras. The project will be reimbursed a total of $3,000 by way of a state grant.
The election boxes will be installed near the commission chambers at the county complex in Fayetteville, behind City Hall in Peachtree City near the Planning Department and at the Tyrone Library.
Commissioners agreed with Board of Elections member Addison Lester to have another box installed in the Brooks/Woolsey area if sufficient funds are available.
County Board of Elections Chairman Darryl Hicks at the meeting said State Election Board rules allow for the ballot boxes to be placed only at county or municipal properties and they have to be securely fastened to the ground or an immovable object. The boxes will be installed in well-lit areas.
The elections board cited a number of reasons to utilize the ballot boxes. Those included:
– a recommendation by the Secretary of State
– pandemic concerns
– USPS delivery concerns
– voter convenience
– voters requesting the boxes
– boxes already in use in some communities
– a maximum state grant of $3,000 for the purchases
The boxes are expected to be delivered by the second week in October.
Hicks said it was not until the Fayette Board of Elections meeting last week that local members had enough confidence in the state Elections Board decision pertaining to the boxes to ask commissioners to fund the purchase.
Once in place and operational, the boxes will be emptied at least every three days and, beginning the second Monday prior to the election, they will be emptied at least once a day.
Seven people in the audience spoke on the topic during public comments. Five of those supported the purchase, one opposed and one had questions about security measures.
Fayette FACTOR Executive Director Dawn Oparah in a letter to commissioners said, "I think during this current pandemic the most prudent thing to do is to ensure that all of our citizens that vote can safely cast their ballot by having enough voter boxes available. This would ensure that they don't endanger their health or lives during this current health crisis, while trying to vote."