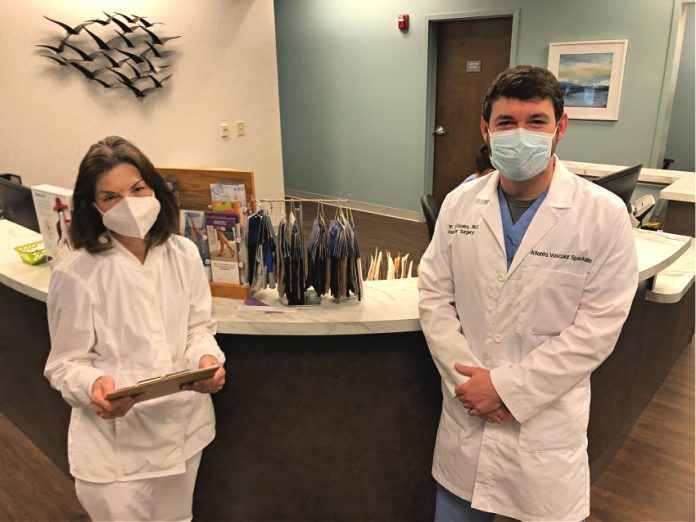 If you experience discomfort and swelling from varicose veins or have achy, heavy legs or swelling or discoloration of the ankle, particularly at the end of the day, there's no need to postpone treatment until after the pandemic. 
Atlanta Vascular Specialists, which has been caring for patients in the Atlanta area for more than 40 years, continues to treat patients with artery and vein-related conditions during the COVID-19 pandemic with the highest degree of safety. 
The board-certified vascular surgeons at Atlanta Vascular Specialists routinely perform procedures to treat arterial conditions such as blocked arteries, aneurysms, and peripheral arterial disease as well as vein-related conditions such as venous insufficiency and varicose veins. 
Dr. Eric Wellons, Dr. James Combs, and Dr. John Dooley, the trio of surgeons who perform these procedures, came together at the very beginning of the pandemic to be as proactive as possible about protecting patients and staff.
"At the beginning of the pandemic, we rotated teams," Dr. John Dooley explains. "So we had half of our office stay out. We continued as normal, and then if someone were to be sick or not feel well, we would sub someone in so that they wouldn't feel obligated to come in and we could have them rest for two weeks at home to get tested and ensure that they weren't sick."
The doctors also researched safety procedures as well as guidelines from the Centers for Disease Control and as a result, the team at Atlanta Vascular Specialists has instituted several new clinic protocols and screening processes. 
Staff members wear N95 masks all times, both when treating patients and interacting with each other. Patients are required to wear masks while in the office as well. The doctors supply masks to patients who don't bring their own. 
Temperature checks are performed on staff and patients at the door. Anyone with a fever above 100.4 is sent home.
Patients are screened by phone within 48 hours of their appointment, answering questions that cover travel, general health conditions, and exposure to the virus. Answers to these questions determine whether it is safe for the patient to come in for the scheduled appointment.  Patients who can't be reached prior to their appointment are screened before entering the office.
"We have been able to catch some positive cases before they came into the office," Dr. John Dooley says. "We referred them to the emergency room. They were tested positive for COVID and then they were appropriately treated at the hospital."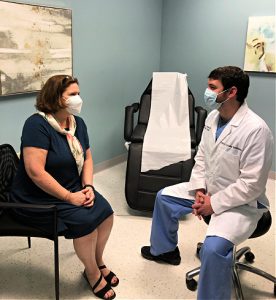 To protect patients further, wait times have been shortened between patient arrival and the clinical process in several ways. More time is allotted between appointments to prevent a backup of arriving patients, who call the office from the parking lot to check in with the clinic. There is no waiting inside the office. Once called to come into the office from the parking lot, patients go through the lobby, drop off insurance cards or copayments if needed, and proceed straight to an exam or procedure room. Any additional paperwork needed is completed in the room. Once this is finished, a medical assistant interfaces between the patient and the check-in/check-out desk.
Surgical standards for disinfecting and cleaning in the clinic have always been a high priority at Atlanta Vascular Specialists. Clinical staff wears gloves, putting on a new set for each appointment, and exam and procedure rooms are thoroughly sanitized between patients. New protocols include using sanitizing wipes to wipe down clipboards and pens. Even the numbers which hang on doors to let doctors know the order in which to see patients are wiped down between uses. 
"We think that doing those things has helped protect our staff and ourselves and enabled us to keep going," Dr. Dooley says. "As a small private practice, we have to be very on top of it in order to continue to take care of these folks."
Dr. Dooley praised Atlanta Vascular's support staff, who have been diligent in supporting new protocols and safety measures from the beginning.
"We have buy-in from the staff so that we can protect them and their ability to continue to help take care of the patients," Dr. Dooley says. "And a lot of it isn't just what they've done in the office. It's their behavior out of the office. We asked folks if they must travel, please tell us, and to hold off on any non-essential travel.
The goal of the entire team at Atlanta Vascular Specialists is to help people continue their lives as normally as possible, despite having vascular or vein conditions. Dr. Eric Wellons, Dr. James Combs, and Dr. Dooley combine cutting-edge technologies with years of experience to offer the best outcome for patients. Patients have the advantage of having a trio of experienced vascular surgeons collaborating on the best treatment option for each patient.
From potentially life-saving surgeries performed in hospital operating rooms, to minimally invasive office procedures for varicose or other vein conditions, Atlanta Vascular Specialists take care of patients in a safe and efficient manner. Most treatments are performed in-office and require little downtime for recovery.
"Some of the procedures we do are truly elective and can be put off for a while," Dr. Dooley says. "But a lot of our patients, even when it's not emergent artery disease in the lower extremity that can result in limb loss, typically need to be treated sooner than later." 
"Even varicose vein issues that are present when a wound in the lower leg is present need to be addressed sooner than later to help prevent infection and hospitalization," Dr. Dooley says. "Carotid artery disease that leads to stroke in patients who may or may not have already had a stroke needs to be treated in a short period of time. And certainly aortic aneurysms and that kind of thing –  those don't wait."
Patients with arterial conditions are generally referred by other specialists and doctors. It's important to note that you can request the specialists you prefer. You can ask your doctor to refer you to the experienced surgeons at Atlanta Vascular Specialists, which have operating privileges at Piedmont Fayette and Piedmont Newnan hospitals.
When seeking care for vascular disease or conditions such as varicose or spider veins, Dr. Dooley stresses the importance of finding a provider board-certified in vascular surgery. To make sure they're maintaining those certifications, patients can verify a doctor's certifications with the American Board of Medical Specialities by visiting abms.org/verify-certification/.
"We encourage people who may have vascular or vein conditions to come into the office to let us evaluate them," Dr. Dooley says. "Bear with us with some of the inconvenience related to the pandemic, but don't wait at home with serious vascular conditions."
"Conditions we would have treated a year ago are just as serious and important today," Dr. Dooley says. "These new screenings are very important to help protect patients, our staff, and families so that we can continue to give our patients our best care."
Convenient outpatient clinics are located in Fayetteville and Newnan and have operating credentials at Piedmont Fayette and Piedmont Newnan hospitals. 
Learn more at vascularspecialistofga.com/ or call 404-524-0095 for an appointment.