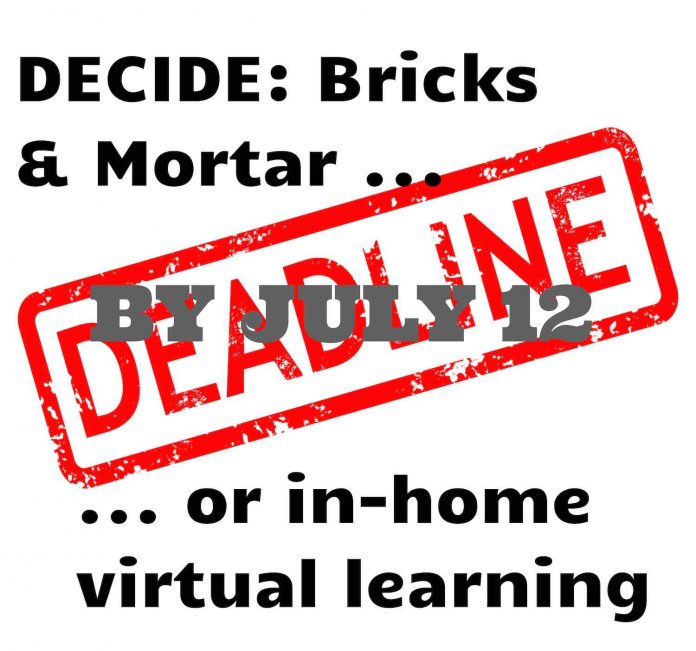 Parents of Fayette County public school students have until Sunday, July 12 to decide if they want their children to go back to a brick and mortar school beginning Aug. 10 or if they want to have their children attend the remote-learning virtual school.
School system spokesperson Melinda Berry-Dreisbach said the re-entry choice survey went out to parents in the morning hours of July 9. Parents have until Sunday, July 12 to complete it.
Berry-Dreisbach said students will automatically be enrolled in the brick and mortar option if parents don't complete the survey by the deadline.
The email sent to parents by the school system said, "The school system is asking you to select whether your child will attend brick and mortar learning or full-time virtual learning for the 2020-2021 school year by completing this short survey. It is important that you answer the survey and select an option. This information is needed so that we can plan our staffing needs for the coming school year. Please note that if you do not respond to the survey, your child will automatically be assigned to brick and mortar learning."
Meantime, the school system added nearly 100 questions and answers to the previous Q&A list, which presumably will help parents decide how to route their children's' education.
The lengthy new list can be found at https://docs.google.com/document/d/1tKEUdI7l4cQqAuF1O49CIu6_FgtOzAsdyYr_NN8zVZY/preview
The questions and answers pertain to categories such as bus operations, re-entry operations, sanitizing, brick and mortar schools, full-time virtual school, health, Schoology learning management and special education services.
The idea that the voluminous Q&A will help parents does come with a notice to parents on some questions that the school system will follow the guidance of entities such as the Ga. Department of Public Health, the Ga. High School Association. Ga. Department of Education. The guidance referenced in the Q&A is not always linked to the respective websites.
Some parents are expressing concerns that some of the answers do not actually answer the questions. By way of example, a bus question, which also applied to while in school, reads. "What can I do to have my children opt out of wearing a face covering at any point in the school day, including on the bus?"
The answer was, "In order to keep other students and staff safe, there will be times that students will be required to wear a face covering, including on the bus."
Yet the answer did not answer the question when it came to at what "times" of the day, such as in the classroom, in the hallways, restrooms, etc.