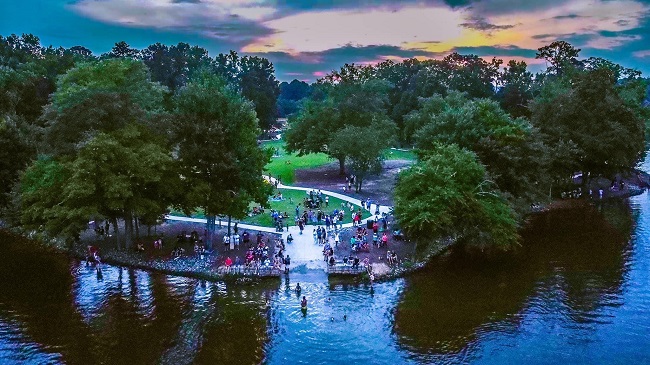 A different type of July 4 event was held this year in Peachtree City. The "Free the 4th" gathering at Drake Field — billed as a "protest" over the postponement of the annual fireworks show — gave an estimated 500 people the chance to hang out and celebrate the day. The crowd also got to see a fireworks display from private property and from boats in the lake.
Organizers Jonathan Walker and Thomas Crews earlier in the week said, "Due to the guidelines and restrictions imposed by the state of Georgia regarding the Covid-19 pandemic, our community is prohibited from having a sanctioned gathering on Independence Day 2020. In order to ensure our community can have our annual celebration, we are protesting the postponement of the firework celebration."
Standing at the gazebo during the late afternoon hours, Crews and Walker emphasized that the protest was apolitical in nature and intent, and was designed to simply enable members of the community to lawfully gather on Independence Day.
"We take no position on any political, religious or economic issues that are current or have been in the new as of late. Please be respectful of everyone's right to 'protest' and please exercise common courtesy and social distancing etiquette," they said.
Their desire to have the occasion as one where people could hang out and celebrate July 4 worked well.
A band showed up after hearing about the plans and wanted to play at no charge. As the music played, more people arrived at Drake Field. They were families relaxing on blankets and people riding bikes, while others took in the views of Lake Peachtree.
Still more came, with organizers saying the final tally was estimated at 500.
As the sun slipped away, a fireworks display on nearby lakeside private property, and from boats on the lake, gave those assembled in Drake Field and at Battery Park, Picnic Park and Spyglass Island a different kind of July 4 to remember.