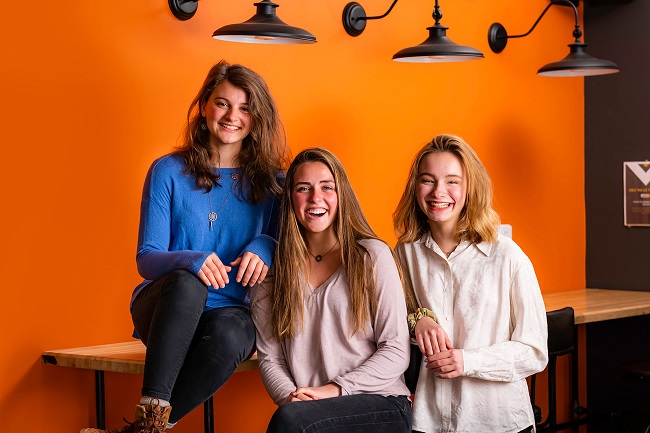 Three students at The Foundry High School in Peachtree City placed among the top 11 high school students nationwide in the Quarter Zero entrepreneur competition. That achievement puts them in the top 1 percent of high school students in the nation.
Foundry Headmaster Christi McCully said the school's entrepreneurship students this month placed in the top 11 nationwide of high school aged entrepreneurs. The Quarter Zero entrepreneurship organization hosted the competition with the goal of powering the potential of young people. This year's competition began with 971 entrepreneurship teams from across the nation, McCully said.
"The Foundry students, Caroline Hukin, Mya Mackiewicz, and Faith Ingram had just completed an entrepreneurship class at their high school," said McCully. "Through the course, students created an actual business with a real product that they sold at several local markets. The girl's built a jewelry line they called Foundry Fashion. The line aims to form a community among women in STEM (science, technology, engineering and math). They chose the gear as a symbol to empower women. Some pieces are named for women who have already made huge contributions to our society, such as Marie Curie who discovered radium and Elisa Leonie Von Zamfiresca who was the first female engineering graduate."
Commenting on their effort, Hukin said, "Our goal is to empower humanity, one gear at a time."
McCully said the girls discovered the Quarter Zero competition on Facebook.
"The opportunity jumped out at us and we said, 'Why not?' It was literally the perfect platform for our business," the students explained.
The competition included three rounds: the written summary, the video pitch and a live pitch and Q&A. The winner was awarded free entrance to the Quarter Zero Entrepreneurship camp in California. Although the girls didn't win, they did place in the top 1 percent of competitors nationwide, McCully said.
Foundry Fashion member, Faith Ingram, explained that "I wanted to do something to prove to myself that we were making a difference."
Mya Mackiewicz noted that "We made some great connections and got some really good ideas."
In addition, Foundry Fashion has gained the services of the Atlanta/New York firm, Liebe PR and presented their pitch with 1 Million Cups, a nonprofit for startup entrepreneurs.
Foundry Fashion recognizes that there are plenty of teens in Fayette County with good ideas who have considered starting a business.
Caroline Hukin advised, "Just try it and see what running a business is like. Nothing can stop you if you really want it."