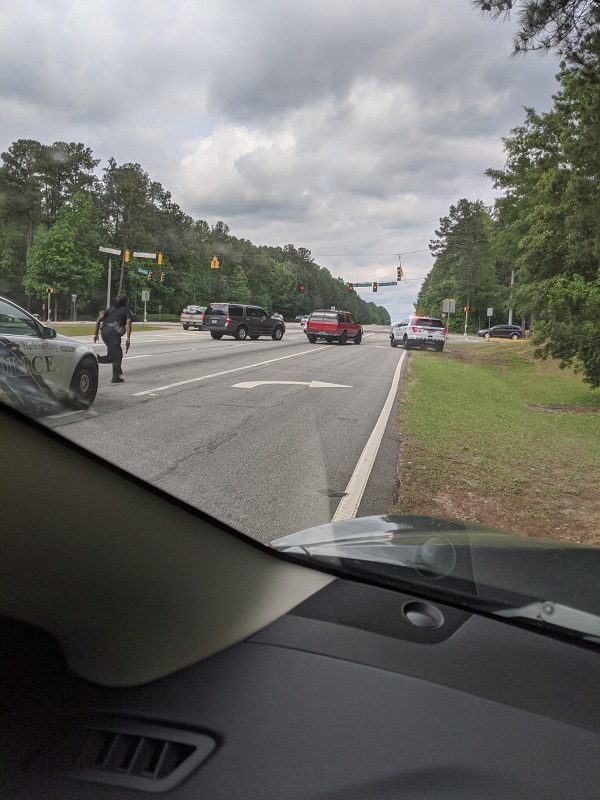 Palmetto resident Eliseo Hernandez was taken into custody along Ga. Highway 74 North on May 5 after stealing a vehicle at the Peachtree Crossings Shopping Center. Photo/Submitted.
A Palmetto man is in custody after stealing a vehicle in Peachtree City on May 5, trying to run the victim over and attempting to elude police.
Eliseo C. Hernandez, 51, was charged with vehicle theft, aggravated assault, reckless conduct and fleeing and eluding law enforcement, according to Fayette County Jail records.
Peachtree City Police Department spokesman Chris Hyatt said officers at approximately 3:57 p.m. were dispatched to an auto theft in progress at the Fresh Market grocery store at the Peachtree Crossings Shopping Center on Ga. Highway 54 East.
Hernandez had entered the unlocked vehicle with the keys inside as the owner was exiting the store, Hyatt said.
The vehicle owner confronted Hernandez, who attempted to run the victim over as he fled, driving recklessly as he exited parking lot, said Hyatt.
The vehicle was spotted by police in the area of Ga. Highway 74 and Georgian Parkway, where officers boxed him in, Hyatt said, adding that Hernandez tried unsuccessfully to get around the patrol units.
Subsequent to this story being published, a person at the scene at the time of the vehicle theft said the victim had just stepped out of his vehicle to move a bag of garbage.
Hernandez was taken into custody and transported to the Fayette County Jail.