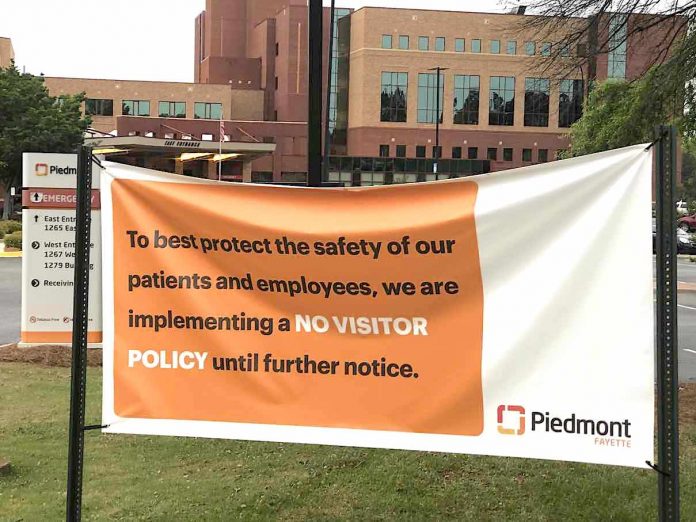 3 trips to ER, turned back twice; nobody told her she also had developed sepsis until she read her own chart —  
A Fayette County woman says she will no longer seek medical treatment at Piedmont Fayette Hospital after her recent experiences in April that took three trips to the hospital before she was tested, and found to be positive, for Covid-19.
Judy Welch said on March 27 she began experiencing fever and flu-like symptoms such as nausea and vomiting, even though she had not been out of her home for two weeks. On April 3 her daughter took Welch, 58, to the Piedmont Fayette Emergency Department.
Welch said she was there for approximately 45 minutes, and was released to go back home after being told by a doctor that, "I had stomach flu and it needed to run its course."
The symptoms continued, and on April 6 Welch said she was transported by ambulance back to the Emergency Department with her chest hurting, and adding that she had not eaten for days.
An X-ray and MRI were ordered, with Welch saying she was told that she had fluid in her lungs and that she may have Covid-19.
"I had spots on my lungs and in my intestines," Welch explained. "The doctor said I might be positive for Covid-19, but that tests for the virus are only given to people who were admitted."
Welch said she was given two bags of IV saline and did feel better after getting fluids in her system. She was advised to monitor for fever or difficulties breathing.
She was again released, though it was during the late-night hours that she began having difficulty breathing and a fever, and again called 911.
"I asked to go to Southern Regional, but they refused me and sent me to Piedmont Fayette," said Welch. "When I got to Piedmont Fayette, I saw a female doctor, and she asked why I kept coming back. I reminded her what she had told me before. She looked at me and walked out of the room."
Welch said she was told that she would be given antibiotics and sent home, and that the only way she could be tested would be if she were admitted. While still at the hospital, the doctor also ordered a check of her lungs by a respiratory team.
"The doctor came in after the test and said I would be admitted and tested for Covid-19," Welch said, as she continued to describe the events of April 7.
Welch said she was admitted on the fourth floor and was tested, with the test coming in on April 8. She had tested positive for Covid-19.
Welch said while admitted she was also being treated for sepsis, though she maintains she was not told she had the condition. Welch said she found out after she got out of bed and read her chart.
"They never told me they were treating me for sepsis," said Welch. "Not only did I have to fight the virus. I had to fight sepsis."
Welch said she was discharged on April 11, and has since filed a complaint against two doctors with a Georgia Composite Medical Board.
Quarantined at home until April 25, Welch said she is still on oxygen but feels better and is "getting better every day."
As for her recent experiences, Welch said, "I will never go back to Piedmont Fayette."
Asked for a response pertaining to the statements by Welch, Piedmont Healthcare said it "cannot comment on patients on their conditions because of the Health Insurance Portability and Accountability Act (HIPAA), which protects patient privacy."
Piedmont was also asked about procedures being used currently for testing for Covid-19, and if those procedures were in place on April 3.
"Piedmont Healthcare's testing criteria have been adjusted according to availability and appropriate clinical guidelines as determined by the Centers for Disease Control and Prevention (CDC). As we have added testing within our organization and therefore expanded our testing capacity, we've been able to test people with mild symptoms. Since the beginning of the COVID-19 outbreak, our message regarding treatment of COVID-19 has been consistent. For those without symptoms or with mild symptoms, they should stay home and follow CDC guidelines for self-isolation. If patients have severe symptoms that are getting worse, our guidance is to go to an emergency room," Piedmont Healthcare said.