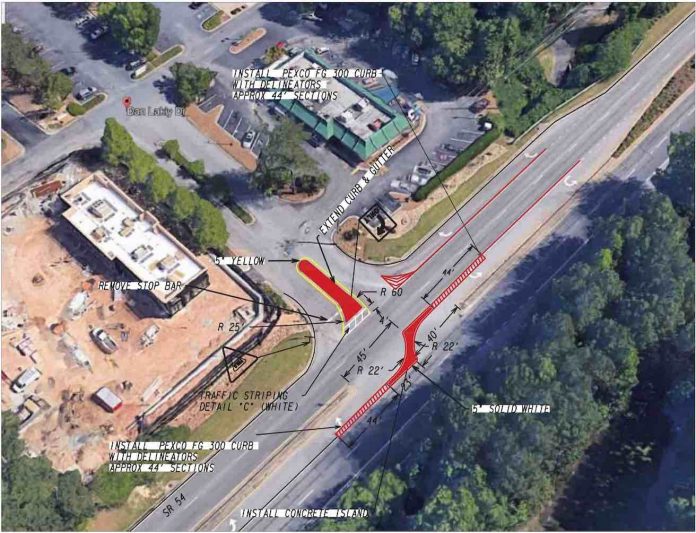 The "reduced conflict U-turn" or R-CUT, approved Feb. 6 by the Peachtree City Council for the intersection at Ga. Highway 54 and Dan Lakly Drive at the Peachtree Crossing retail area is about to be installed.
Peachtree City in its online "Updates" on April 6 said Ga. Department of Transportation (DOT) has issued a notice to proceed to the contractor, and citizens may notice some activity on the project any day now, weather permitting. Once started the project will only take a few days to complete.
Essentially, this is a concrete median built in the center of the intersection that prevents left turns out of the shopping center drive by McDonald's and Chick-fil-A on to Hwy. 54, while preserving the ability to turn right in, right out and left in from Hwy. 54 eastbound, the city said.
The R-CUT will be similar to the one recently installed on Ga. Highway 74 north at Kedron Drive South.
According to DOT, "An R-CUT is an intersection design that reduces crashes by changing how minor road traffic crosses or turns left at a major road, reducing the potential conflict with other vehicles.
"At an R-CUT, minor road traffic must turn right. Left turn and through movements from the minor road are accomplished through the use of a downstream U-turn. All movements (left, though, and right) are allowed from the major road.
"For example, drivers who would turn left from the minor road at a conventional intersection must now turn right instead, then make a U-turn at the designated location.
"Drivers who would cross the main highway once reaching a conventional intersection must now turn right first, make a U-turn at the designated location and then turn right onto the adjoining side street at the R-CUT intersection."