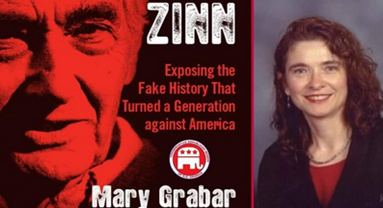 Mary Grabar, author of the best-selling book, "Debunking Howard Zinn, Exposing the Fake History that Turned a Generation Against America," will be speaking Monday evening at 7 p.m. at Fayette County Republican Headquarters, 174 Glynn St. N., Fayetteville. Admission is free.
Mary is currently a Resident Fellow at the Alexander Hamilton Institute for the Study of Western Civilization and the founder of the Dissident Professor Education Project. She taught at the college level for 20 years, most recently at Emory University.
Her work has been published by The Federalist, Town Hall, Front-Page Magazine, City Journal, American Greatness, and Academic Questions. Since the publication of her book, she has been invited for interviews and speaking engagements across the country including an interview with Dennis Prager and three episodes for Blaze TV and other network productions.
Her book is a forceful counter to Zinn's Marxist history book, "A People's History of the United States" (3 million copies sold). This egregious work has become one of the leading textbooks in our American high Schools and universities.
This event will be of particular interest to those concerned about the decline of our American educational system.