It's the most wonderful — and busiest — time of the year at the home of Mike and Gwen Gaddy on Sandy Creek Road.
The magic unfolds discretely as the couple spends afternoons erecting wireframes and stringing lights on the property where they've lived for 42 years.
Mike drives hundreds of rebar stakes into the ground to secure countless scenes, oversized figures, and ornaments. He hauls giant nutcrackers, Christmas trees, Santas, reindeer, a Ferris wheel, and two pickup truck loads of extension cords out of buildings and tractor-trailers where they've been carefully stored for months.
Gwen puts the finishing touches on good-as-new decorations in the workshop where they refurbish and rehab treasures year-round. She gives a mother's once-over spit shine to each festive item before it takes the stage.
On Thanksgiving night, they'll flip a switch and light the sky as the seven-acre Gaddy Christmas Light Extravaganza opens the holiday season for the 31st year.
The drive-through "old-school" display – nothing has to be programmed by a computer – is tailored to delight children. Their joy is the Gaddys' reward for their year-round preparations.
"We can stand in the carport and hear them squealing and squawking all the way down, all the way in and out," Gwen Gaddy says. "It's fun to hear them be kids. A lot of times they'll come through with the moon roofs and the slide doors open, and they'll be singing. I cannot tell you how many shoes and socks, pacifiers – so much stuff – we had found on the ground."
Local kids know the Gaddys as "The Christmas People."
The annual tradition began in 1988 when the Gaddy's three children were 11, 9, and 5. Gwen and Mike had enjoyed their parents' outdoor decorations when they were kids and decided their own kids might like something similar.
"It all started with 'ho, ho, ho.' We added those three words out there in the pasture," she says. "Then every year we would add a little piece. Then we got enough stuff where we would let cars come down the driveway."
Fast forward 29 years to 2017, when the Gaddy's were featured on ABC's Christmas Light Fight reality show. Last year, 31,000 cars and buses came down that driveway.
"We all still just look at each other and say, 'how did this happen?'" she laughs.
The Gaddy's have never accepted any donations to offset their expenses, even when the power bill swells $1,700 during the season.
However, visitors bring donations for the March of Dimes, in memory of Mike and Gwen's grandson, Brady, who died as an infant in 2012. To date, contributions have totaled $156,000.
Also, from Thanksgiving night to December 19, guests bring donations for Toys for Tots. Some 2,500 toys — as many as 23% of all toys donated in Fayette County some years — are collected at the Gaddy Christmas Light Extravaganza. When Mike and Gwen turn the lights off around 10 each evening, they go out and collect all of the toys. Last year, 11 bicycles were donated.
If you're planning to visit the Extravaganza this year, Gwen recommends coming on a weeknight, when the lines are shorter. The lights are turned on around 5:45 p.m., beginning Thanksgiving night. They are turned off around 10 p.m., depending on the lines in the evening. Off-duty law enforcement will be on hand to help manage the traffic this year.
Whether you see them or not, The Christmas People are usually there, taking care of details. Mike may be lifting the arches so buses can pass underneath. Or they may be standing in the carport listening to the squeals of happy children.
"I believe that the reason people like our lights is because they are nostalgic. It's something from the past," Gwen says. "People want to believe in magic. And they want their kids to believe in Santa Claus. They want it to be a magical time of year."
"With everything else that goes on in this world today, there needs to be something that stays magical."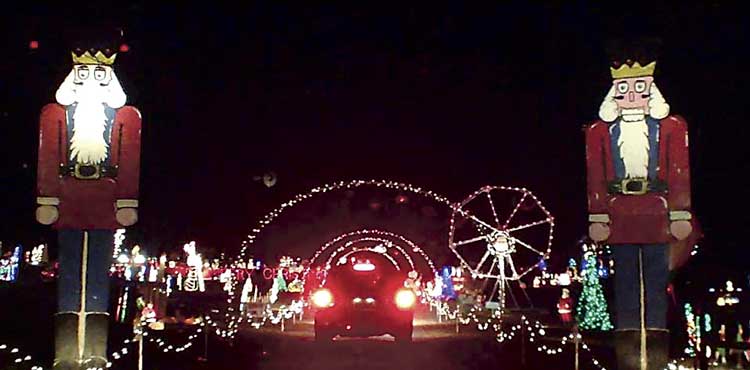 Gaddy Family Christmas Light Extravaganza
Located at 898 Sandy Creek Rd., Fayetteville. Follow the Gaddy Family Christmas Light Extravaganza on Facebook, @gaddylights, for updates and more information.