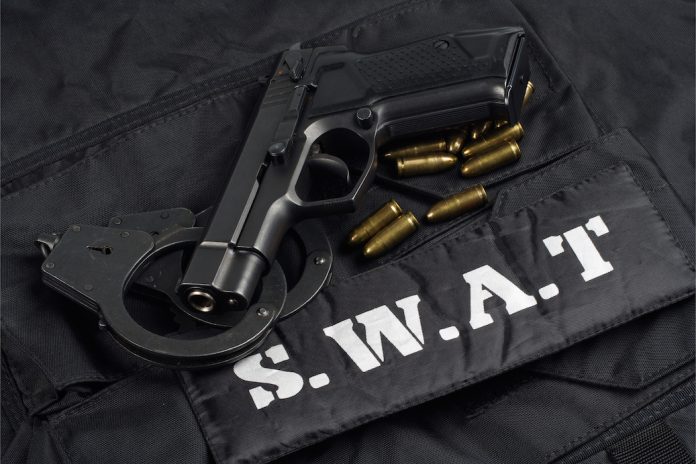 A training course for SWAT leaders from across the U.S. was recently completed at the Peachtree City Police Department. The department's top-notch training facilities has resulted in Peachtree City becoming a destination for a variety of advanced law enforcement training courses.
Sgt. Chris Hyatt said the most recent training, a SWAT Team Leader Development course conducted by the National Tactical Officers Association (NTOA), had approximately three dozen trainees from around Georgia and several states across the country, including two from Hawaii.
Having facilities that meet the requirements for a variety of advanced professional training courses is the draw for companies and organizations that provide that training, Hyatt explained.
"We have a top-notch training facility. It brings trainers to us," Hyatt said.
Hyatt said the recent training was one of a number of advanced training courses hosted by the department in the past year. Others include additional NTOA courses, and from other organizations, courses on DUI and Field Sobriety, advanced Criminal Investigation Division training, crisis intervention courses and those offered by the Institute of Police Technology and Management.
Along with providing the training space comes a benefit to the department. Hyatt said those courses often come with an attendance fee that can range from $800 to $1,000. By providing the facilities, the department is compensated by the organization in the way of free classroom seats for that training.
Noting the cost-savings to the department, Hyatt said the cost of sending an officer to a location for extensive, multi-day professional training can cost a department $3,000-5,000 per officer, with that cost going for the tuition, airline costs, hotels and per diem expenses.
Something else that makes the department is the city itself. Hyatt noted that there is an abundance of hotel rooms and many restaurants a short distance from the police headquarters on Ga. Highway 74 South. Also making a difference is the easy airport access, he added.