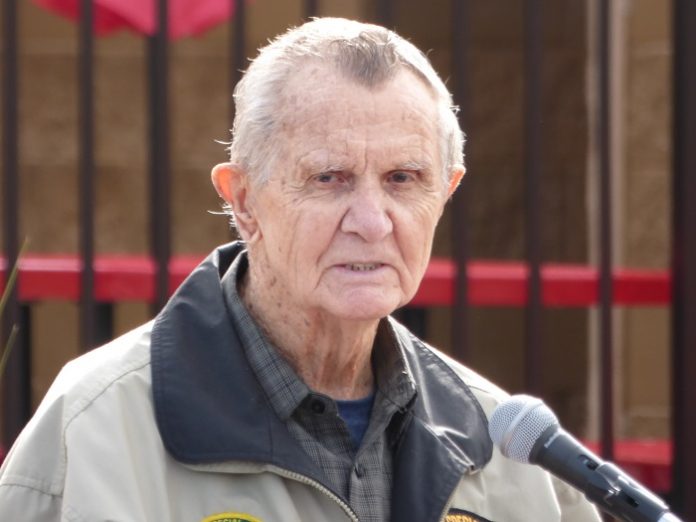 A host of veterans, community members and elected officials were present under cool, clear skies at Georgia Military College in Fayetteville on Nov. 8 for the annual Veterans Day Recognition Ceremony.
The keynote speaker for the occasion was Fayetteville resident and Korean War veteran Col. Ben Malcom (U.S. Army, Retired).
Author of "White Tigers: My Secret War in North Korea," Malcom during his service laid the foundation for today's Special Forces operations. His address Nov. 8 dealt with facets of the operation behind the lines on the Korean peninsula.
As noted at the ceremony, there were 22,000 North Korean guerrillas operating behind the lines in North Korea, being led and supplied by U.S. Special Forces and the CIA. The operation was classified Top Secret for more than 40 years, until gaining unclassified status in 1990.
Malcom speaks to groups nationwide more than two dozen times each year and teaches classes at the John F. Kennedy Special Forces School in Fort Bragg, N.C.
The occasion was also a time to commemorate local resident Cpl. Kevin Cruze, USMC, who was a former student at GMS's Fairburn campus.
"Tragically, on Feb. 13, 2009, approximately five years after he entered the U.S. Marine Corps, Kevin lost his own personal battle with his invisible combat wounds," said GMC's Executive Director, Brig. Gen. Rock Donahue (U.S. Army, Retired), who officiated the ceremony.
As a tribute to Kevin and the Cruze family, and with his parents participating at the ceremony, a memorial plaque was placed at the base of the GMC-Fayetteville flagpole as a reminder of his academic achievement and to honor him as a patriot.
As is the custom at GMC, the ceremony recognized the veterans and first responders in attendance for their service.