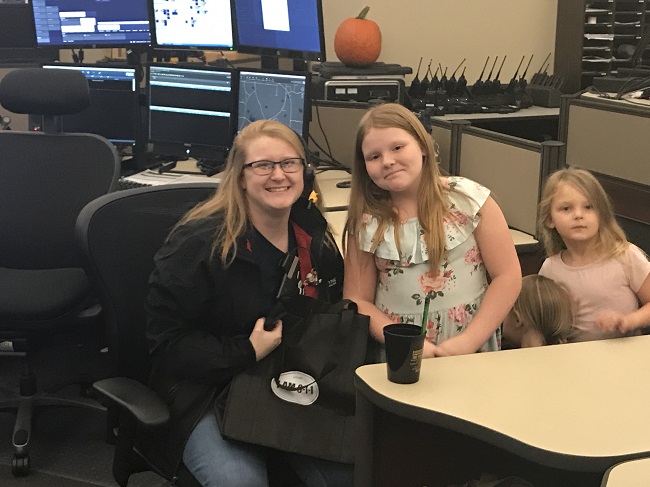 Family of 8 evacuated from burning home on County Line Road — 
The 9-year-old Fayette County girl who called-in a fire at her residence on Oct. 11 paid a visit to the E-911 center on Oct. 14 to visit with the dispatcher who took her call.
Delilah Austin and her family were invited to the E-911 center by dispatchers who wanted to meet the girl who successfully passed on the information that helped deputies and fire units respond to her home on County Line Road.
Mom Delores Austin brought Delilah, 5-year-old Daniella and 2-year-old Isabella to visit dispatchers at the 911 center, leaving later with mementos of their visit after meeting and talking with the staff.
Commenting on the circumstances at the home on Oct. 11, Delores said she was busy helping disabled family members, including those in wheelchairs, get out of the house after the fire started. She told Delilah to call 911.
Delilah made the call, notifying dispatcher Amber Heminger about the fire and the need for help. As is part of the protocol for dispatchers, Heminger asked Delilah about the nearest cross-street to her residence. Delilah said she didn't know, adding that "I'm just a child."
Child or not, Delilah made the call and provided the needed information. Heminger had already dispatched units to the site, with Delores noting that deputies arrived on scene first.
"They came in and got my dad out," Delores explained. "They saved his life."
Delores at the Oct. 14 visit with dispatchers said all family members are doing fine.
In all, eight people were evacuated, with two transported for evaluation and treatment for smoke inhalation and burns, Fayette County EMA Director Mike Singleton said at the time, adding that the house sustained significant smoke and fire damage.