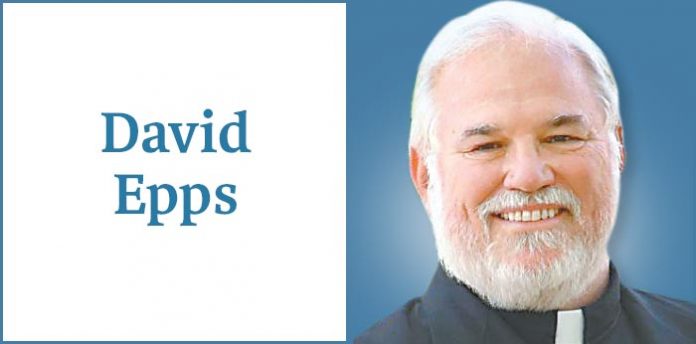 I was about to meet with a young man, recently discharged from the United States Air Force, for breakfast at a local restaurant. I was going to welcome him back to the community and buy his breakfast.
I was the first to arrive and stood in line at the hostess desk. In front of me was a young man I judged to be about 18. He had a short haircut and sported a Marine Corps T-shirt that featured the famous "yellow footprints" known by every Marine who passed through Parris Island or San Diego and the name of a certain unit. The shirt also bore other Marine Corps symbols. He was with another man, a bit older, and I decided I was going to buy this young Marine's breakfast as well.
When he looked at me briefly, I said, "Semper fi!" He didn't respond so I assumed he hadn't heard me. I moved closer and said, "Where are you stationed?" There was a pause, an awkward silence, and then he said, "I'm not stationed anywhere. I almost enlisted…" Whatever he said after that wasn't important.
It turns out that, according to him, he did physical training with a group of recruits for six months but was leaving for college that very afternoon. He didn't enlist. He wasn't a Marine. He wasn't even a Marine recruit yet here he was with a military haircut wearing a shirt that led me, and everyone else who saw it, to believe that he was a Marine. He wasn't. I didn't buy him breakfast. Because I had my church polo shirt on, I was polite. But, inside, I was cold.
Perhaps the same is true with the other military branches, but those of us who actually earned the title of "United States Marine," take this stuff very seriously. He was actually lucky I was the one behind him in line. I know plenty of Marines and Marine veterans who would have made a public issue of it right there in the restaurant. Some might even have ripped it off, risking an assault charge.
Wearing a military shirt isn't the same as a college shirt or sweat shirt. I have a University of Tennessee shirt although, except for continuing education classes taken when I worked for the Tennessee Department of Human Services, I took no classes at UT.
I have had an Atlanta Braves baseball cap and an Atlanta Falcons shirt. No one thinks I played for those teams. It's a fan thing. It's perfectly acceptable.
Dressing in a manner designed to make other people think you are something when you are not is unacceptable. It's pretentious. It's deceptive. It's posing. It's a lie.
If I see someone wearing a Vietnam Veteran or War in Afghanistan cap, or the like, I make the assumption that person has been to war. I treat them as such. I am not a Vietnam Veteran. I am, however, a member of the Vietnam Veterans of America Association and I am a member because they allow Vietnam-era veterans to join. I support that organization.
However, I do not wear anything that might identify me as a combat veteran or an in-country veteran of that war. I do not own a Vietnam Veteran shirt or ball cap. That honor is for those who have been there and done that, in my estimation. I am a Marine veteran, a "Cold War" veteran. That is enough for me, because it's what I am.
There is a term called "stolen valor." It refers to those who fraudulently pose as veterans, or those veterans who pretend that they did more than they actually did (by wearing unauthorized medals, ribbons, or rank, for example). The Stolen Valor Act of 2013, signed into law by President Barack Obama, under certain circumstances, makes such posing a federal crime. It's wrong and it dishonors those who truly paid the price and didn't "almost enlist."
It is not a crime, under the Stolen Valor Act, to falsely pretend to be in the military. What it is, however, is an indication that the person either ignorant or that the person has a lack of integrity.
In the Marine family (I don't know about the others), there's a bit of an exception for families of Marines. For example, when a Marine veteran dies and the Marine Corps League presents the widow or widower a Fallen Marine Certificate, the local MCL also presents the Marine Corps Eagle Globe and Anchor (the EGA) symbol to the survivor in the form of a lapel pin or a broach. They are told they will always be part of the Marine family and to wear it proudly.
There are bumper stickers, caps, pins, and shirts for "Marine Dads," "Marine Moms," and other family members. If I see a man wearing a USMC t-shirt and comment on it and he says, "My granddaughter is the Marine, not me," I congratulate him and welcome him to the family. But to parade around in public hoping that someone will think you are a military person by having the haircut and a piece of clothing? Nope. That's just wrong.
You didn't "almost enlist," as hundreds of thousands of people – perhaps millions – have claimed. You either did or you didn't. If you chose not to enlist, fine. There's no military draft in this country so there's no obligation to serve. Only 1 percent of the people in this nation currently serve in the military. Most of those who did serve do not think less of someone who chose another path.
But we also have no respect and little patience with the pretenders. Leave the shirts, the caps, and the pins to those who earned the right to wear them.
[David Epps is the pastor of the Cathedral of Christ the King, 4881 Hwy. 34 E., Sharpsburg, GA between Newnan and Peachtree City (www.ctk.life). He is the bishop of the Charismatic Episcopal Diocese of the Mid-South which consists of Georgia and Tennessee and is the Associate Endorser for the Department of the Armed Forces, U. S. Military Chaplains, ICCEC. He may contacted at davidepps@ctk.life.]