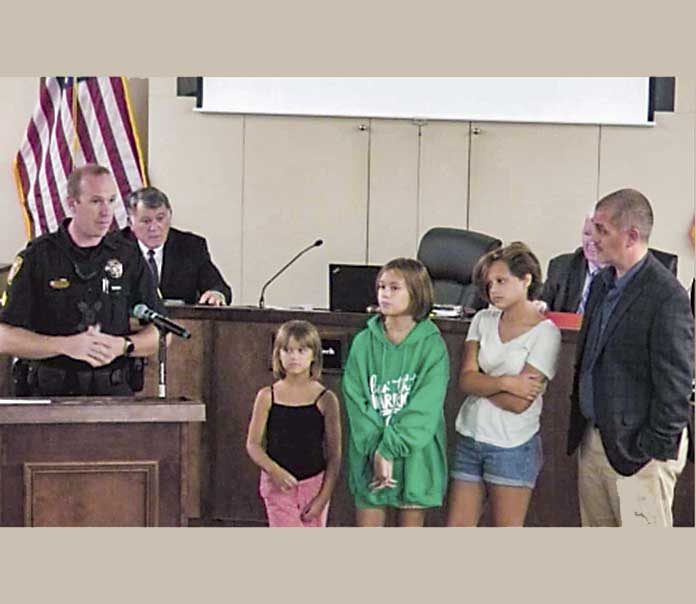 While driving down Braelinn Road the evening of May 21, the last thing Daniel Handley and his three daughters were expecting was to be T-boned by a speeding car.
The impact rolled their car one and a quarter full rotations, with the vehicle coming to rest on the driver's side.
What might have ended in tragedy instead has been recognized by the Peachtree City Police Department as an example of lives being "Saved by the Belt."
The Handley family — father and three daughters, ages 13, 10 and 6 — received that award Aug. 1 at the City Council meeting from Sgt. Chris Hyatt.
"The youngest daughter was also utilizing a booster seat properly, which was paramount in keeping her successfully secured to the seat during the incident," Sgt. Hyatt wrote in his nomination account.
"All four occupants were kept within the vehicle and secured to their seats throughout the entire rollover," he said. "The impact of the collision was so severe that it drew the attention of residents in the immediate area. Citizens left their homes and immediately provided assistance to the family.
"The vehicle actually had to be pushed back over on its wheels by these citizens to successfully extract Mr. Handley from the vehicle, after first removing the three daughters from the vehicle through the rear hatch," Sgt. Hyatt wrote. "All members of the Handley family were evaluated by medics on scene, and they declined offers to be transported to the hospital.
"After speaking with Mr. Handley a week after the incident, he confirmed that neither him nor his daughters have required any further medical treatment and suffered only minor bruises and scrapes," Sgt. Hyatt wrote.
"Based off the findings of the investigation and my knowledge and training investigating collisions, I can say without a doubt that this collision would have resulted in significant injuries, if not fatal ones, to any and all occupants of Mr. Handley's vehicle that were not properly restrained at the moment of impact," the officer wrote.
Peachtree City police want to recognize folks who wear their seat belts with an example of one potentially fatal wreck that with seat belts fastened ended with no significant injuries, Said Lt. Brad Williams of the department's Community Response Team.