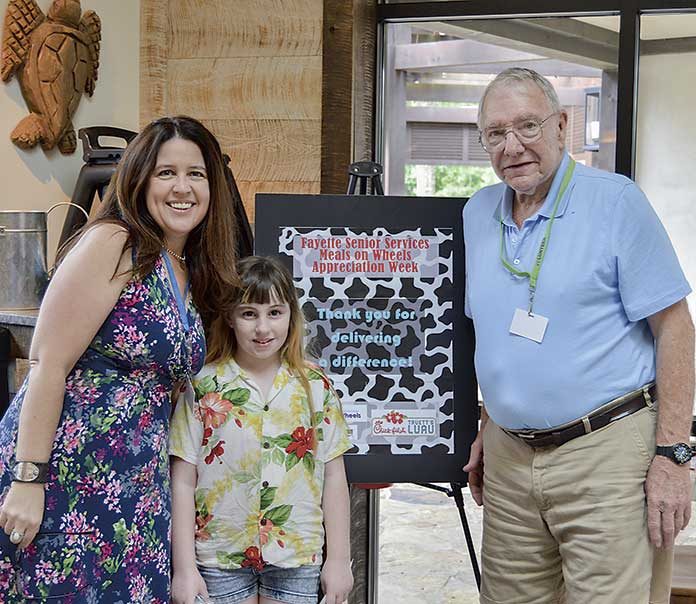 F

ayette Senior Services, Inc. (FSS), a 501 (c)(3) non-profit organization, celebrated their incredible Meals On Wheels (MOW) Volunteers the last week of June at the Chick-Fil-A Luau! FSS partnered with the Luau location to celebrate a Volunteer Appreciation week for all MOW drivers and packers.
During the week, volunteers picked up their meal coolers at the Luau and were greeted by FSS Volunteer Coordinator and Meals On Wheels Coordinators in addition to Chick-Fil-A staff and a Chick-Fil-A meal, cows, and coupons. Luau Owner Doug Mickey shared his gratitude and excitement for Fayette Senior Services reaching out to work together to honor these selfless volunteers.
"We appreciate everything FSS and the MOW team do for this community," Mickey said. "We are thrilled to be able to support such a great program like these."
The week was a way for FSS to express to their Meals On Wheels volunteers how much they mean to the program and show their gratitude and appreciation for all they do to make it such a success. "Without these individuals giving so selflessly, the Fayette County MOW program could not provide the ongoing support for homebound seniors in the capacity we do. We couldn't do it without all of them," shared Carrie Bittinger, FSS Volunteer Coordinator.
Each year, a team of dedicated volunteers deliver over 56,000 meals to more than 300 homebound and semi-homebound older adults who reside throughout Fayette County. This effort is a dynamic partnership between the national network of local programs and the businesses, organizations, governments, and volunteers who contribute generously to their communities. To make a difference in the lives of others, join the team of Meals On Wheels volunteers. For those interested in volunteering, reach out to Fayette Senior Services at info@fayss.org or 770-461-0813 for more information. Together, we can deliver a difference!
About FSS
For 41 years, Fayette Senior Services, Inc. (FSS), a non-profit 501(c)(3) organization, has been making a meaningful difference in the emotional, social, and physical well-being of older adults. Contact Arnold Powell, Meals On Wheels Coordinator, at 770-461-0813 or apowell@fayss.org to learn more about Meals On Wheels or if you have an interest in becoming a Meals On Wheels volunteer. For more information on Fayette Senior Services, visit www.fayss.org or call 770-461-0813. Fayette Senior Services is a proud member of Meals On Wheels America.