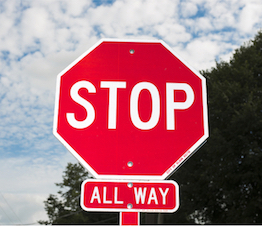 It has been 18 months since a 4-way stop was installed at the intersection of Goza Road and Antioch Road in south Fayette. The Fayette County Commission on May 23 voted 4-1 to keep the 4-way stop in place due to a major decrease in traffic accidents at the location.
Commissioners also approved using $300,000 in 2004 SPLOST (special purpose local option sales tax) revenues for improvements to the intersection at Ga. Highway 92 North and Westbridge Road in anticipation of a decision by the Ga. Department of Transportation (DOT) to improve the current 2-way stop intersection that links Westbridge to Veterans Parkway.
It was in late 2017 that the 2-way stop at Antioch and Goza was converted to a 4-way stop based on the number of traffic accidents, injuries and one death that occurred between 2014-2017. It was during that period that the intersection saw 31 crashes, 25 injuries and one fatality. It was noted that 29 of the crashes came from a failure to yield or disregarding a stop sign.
The period from November 2017 to May 2019, after the 4-way stop was installed, came with three crashes, one injury and no fatalities.
Commissioners were told that the intersection, as currently configured as a 4-way stop, would be viable until 2036.
Commissioner Charles Rousseau subsequently made a motion to retain the 4-way stop rather than installing a roundabout.
A roundabout for the intersection had been funded, though commissioners in October 2018 on a 3-2 vote took the recommendation of the county transportation committee to delay installation for six months to better gauge what was then a significant reduction in traffic accidents since the 4-way stop had been installed.
Commissioner Eric Maxwell at the May 23 meeting, while acknowledging the major decrease in accidents, maintained that commissioners previously said they would use 2017 SPLOST dollars to install a roundabout and should stick with that plan.
Rousseau and the other commissioners noted that the current 4-way stop has succeeded in dramatically reducing traffic accidents and injuries, and that a portion of the funds for the roundabout should be allocated for the intersection at Westbridge Road and Hwy. 92 North, another high priority intersection.
It was during the lengthy discussion that Maxwell said the $100,000 expended to accomplish the design plan for the roundabout had been wasted if not put in place.
Commissioner Chuck Oddo responded, saying he did not believe it would be wasted when the roundabout was eventually needed and the design plan would be implemented.
In the end, commissioners voted 4-1, with Maxwell opposing, to stay with the 4-way stop and allocate $300,000 to go toward improvements at Westbridge and Hwy. 92, once DOT arrives at a plan for the intersection. The commission continues to work with DOT to have improvements approved for that intersection.