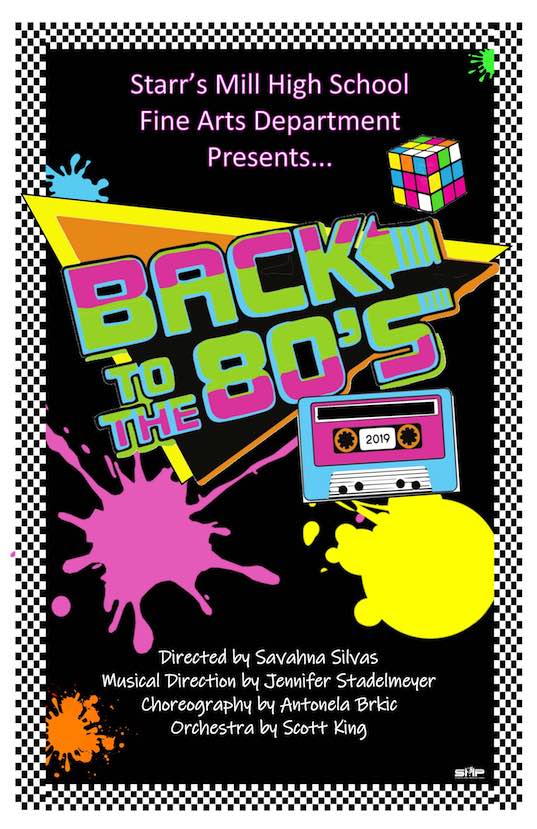 Join Starr's Mill High School Fine Arts Department as they perform the spring musical, "Back to the 80's" Feb. 28, March 1 and 2 at 7 p.m. and at 2:30 p.m. on Sunday, March 3.
The audience will experience a nostalgic adventure through the greatest hits of the decade as well as relish "totally awesome" scenes in the styles of movies such as "Back to the Future," "Ferris Bueller's Day Off" and "The Karate Kid."
The production is under the direction of Savahna Silvas with musical direction by Jennifer Stadelmeyer. Choreography is by Antonela Brkic and orchestra by Scott King.
Tickets are $12 for adults, $8 for students, and are available at the school office.
"Back to the 80's" is presented through special arrangement with Musical Theatre International (MTI).
BACK TO THE 80's
• WHEN: Feb. 28, March 1-2, 7 p.m.; March 3, 2:30 p.m.
• TICKETS: $8 students; $12 adults, available at the school office
• HIGHLIGHTS: Nostalgic adventure through the greatest hits of the decade
• DIRECTORS: Savahna Silvas, Director; Jennifer Stadelmeyer, Music; Antonela Brkic, Choreography; Scott King, Orchestra