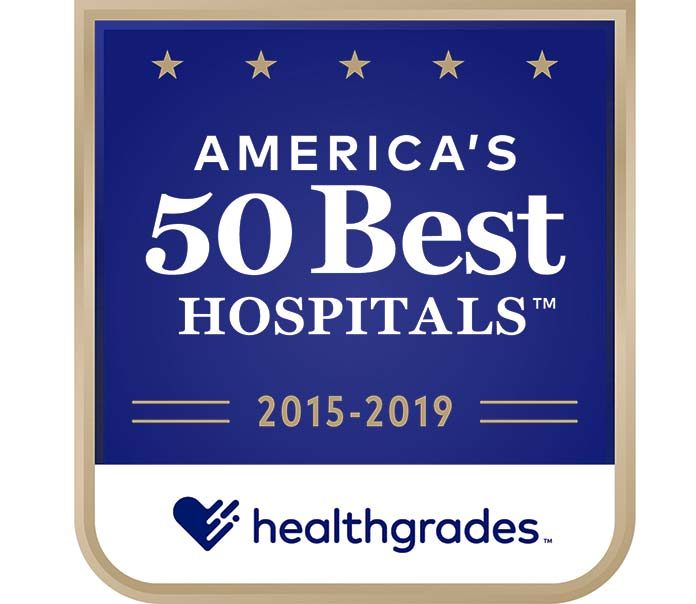 Piedmont Fayette Hospital has been named one of America's 50 Best Hospitals for the fifth consecutive year and has earned the designation as one of America's Best hospitals for 11 consecutive years (2009-2019).
The distinction places Piedmont Fayette in the top 1 percent of more than 4,500 hospitals assessed nationwide for its consistent, year-over-year superior clinical performance as measured by Healthgrades, the leading online resource for comprehensive information about physicians and hospitals.
"This award is important because it demonstrates the difference we make in the lives of our patients," said Piedmont Fayette CEO Michael Burnett. "It shows that we have been able to achieve better outcomes for our patients consistently, year after year. I believe this is because we have created a culture committed to high-quality, patient-centered care focused on safety."
Recipients of the Healthgrades America's 50 Best Hospitals Award stand out among the rest for overall clinical excellence across a broad spectrum of care. During the 2019 study period (2015 through 2017), these hospitals showed superior performance in clinical outcomes for patients in the Medicare population across at least 21 of 32 most common inpatient conditions and procedures — as measured by objective performance data (risk-adjusted mortality and in-hospital complications).
"Exceptional outcomes are only possible when a hospital commits to high standards of quality and continuous improvement throughout the organization," said Brad Bowman, Chief Medical Officer at Healthgrades. "We applaud recipients of the Healthgrades America's 50 Best Hospitals Award for their dedication in providing top-tier care to their patients."
Piedmont Fayette was also recognized by Healthgrades for the following clinical achievements in 2019.
• Recipient of the Healthgrades Stroke Care Excellence Award (2014-2019)
• Named among the top 10 percent in the nation for treatment of stroke (2014-2019)
• Recipient of the Healthgrades 2019 Pulmonary Care Excellence Award
• Named among the top 5 percent in the nation for Overall Pulmonary Services in 2019
• One of Healthgrades America's 100 Best Hospitals for Critical Care in 2019
"The physicians, nurses, staff members, and volunteers are committed to excellence and consistently finding ways to improve on the care we provide," said Burnett. "We're proud when we receive awards and recognition like this, but our focus is on making a positive difference in every life we touch. It is our commitment to that purpose that drives Piedmont Fayette's success."
To learn more about Piedmont Fayette, visit piedmont.org.fayette.